The space shuttle flies in April. Would you like a call when it soars over your backyard? Spaceweather PHONE!
SOLAR SURPRISE: Japan's Hinode spacecraft has taken spectacular pictures of a magnetic vortex twisting, turning, and erupting as a solar flare. The flare occured in a region of the sun previously thought to be uneventful. Get the surprising story from Science@NASA.
CORONAL HOLE: A hole has opened up in the sun's atmosphere and solar wind is spilling out. It's a "coronal hole," colored black in this March 21st ultraviolet image from the Solar and Heliospheric Observatory (SOHO):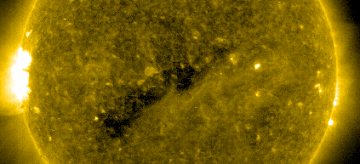 High-latitude geomagnetic storms are possible when the solar wind reaches Earth on March 24th or 25th. Sky watchers from Scandinavia to Alaska should be alert for auroras.
PLUTO ECLIPSE: On March 18th, Pluto eclipsed a dim red star in the constellation Sagittarius. Amateur astronomer Chris Peterson recorded the event from his backyard observatory in Guffey, Colorado: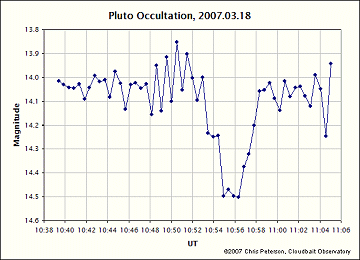 "For about 5 minutes, the combined intensity (star+Pluto) dropped about 0.45 magnitudes as the planet's shadow passed my observatory." He used an SBIG ST-8 camera and a 12-inch LX200 telescope to obtain the light curve.
When a star goes behind Pluto, its light is not extinguished abruptly, as if hidden by a sharp edge, but rather gradually--a sign that Pluto is surrounded by a fuzzy layer of gas. Such eclipses, properly called "stellar occultations," are a valuable tool for astronomers studying Pluto's surprising atmosphere.
---
March 19th Solar Eclipse Gallery
Updated March 20, 2007