| | | |
| --- | --- | --- |
| ASTRONOMY ALERTS: Looking for a unique and affordable gift? Give the heavens for Christmas at Spaceweather PHONE. | | |
CALLING ALL HAMS: No hobby is more sensitive to solar activity and space weather than ham radio. So here is a call to ham radio operators: Is spaceweather.com meeting your needs? We welcome your suggestions to improve our website. Submit ham-friendly ideas here.
SOLAR ACTIVITY: The sun is showing signs of life. There are no fewer than five active regions on the sun's surface, shown here in an extreme ultraviolet photo taken this morning by the Solar and Heliospheric Observatory (SOHO):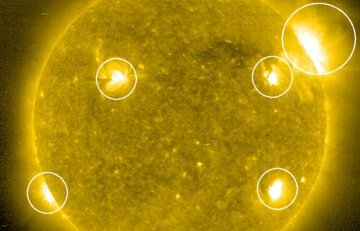 Each circle contains a sunspot or proto-sunspot belonging to new Solar Cycle 24. After two years of record-low sunspot numbers and many month-long stretches of utter quiet, this is a notable outbreak. Whether it heralds a genuine trend or merely marks a temporary, statistical uptick in activity remains to be seen. Stay tuned!
SNOW FLAKES: The industrial district of Marl, Germany, isn't known for its natural beauty or outdoor photo-ops. But maybe that's because people just haven't been looking closely enough. On Dec. 18th, resident Martina Borchert discovered this scene in her own backyard: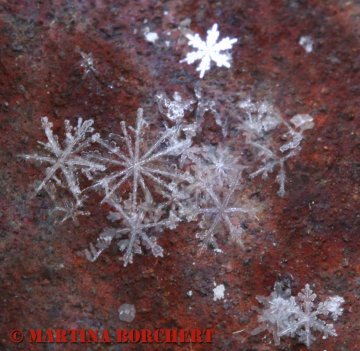 "These crystals landed on top of a rusty old bird feeder," she says. "Normally they would have melted instantly, but the temperature outside was -4 C, and that gave me time to arrange a photo shoot using my Canon EOS 350D and a 60mm macro lens. Two hours and one cold nose later, I stored more than 800 snapshots on my hard drive!" Here is a selection of the best: #1, #2, #3, #4.
Snowflake photography requires patience ("I have been chasing these shots since 2005," says Martina), endurance ("By the end of the session, my fingers were snow white and my nose was Carddinal red," she adds), and good luck ("The rare combination of frigid cold and snow was perfect on Dec. 18th"). Martina's photos show that all these things can come together--even in the industrial district.
---
December Northern Lights Gallery
[previous Decembers: 2008, 2007, 2006, 2005, 2001, 2000]
---