CHINESE SPACE LAUNCH: Taikonauts onboard China's Shenzhou 7 spacecraft are orbiting Earth and preparing for their country's historic first spacewalk. Zhai Zhigang will step into space on Saturday, Sept. 27th, at 4:30 pm local time in China; only a slender tether will connect him to his space capsule traveling faster than 17,000 mph. Both Shenzhou 7 and the rocket that launched it on Sept. 25th are visible to the naked eye as they race around Earth. Check the Satellite Tracker for viewing times.
Sighting reports: from Joe Ricci of Rochester, New York; from Xiaojin Zhu of Madison, Wisconsin; from Michal Zolnowski of Croatia, Island Brac
MOVING MARS ROCK: What lies underneath a Mars rock? Phoenix mission scientists decided to find out. On Monday, Sept. 22nd, they commanded the lander to extend its robotic arm and move a rock nicknamed "Headless." Put on your 3D glasses to observe the result: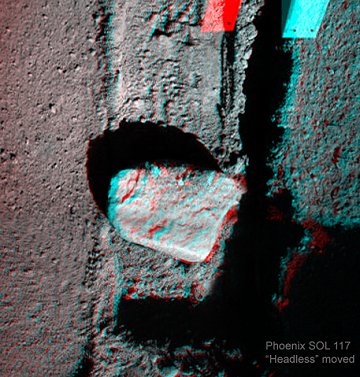 Graphic artist Patrick Vantuyne of Belgium created the anaglyph by combining two slightly-offset photos from Phoenix's robotic arm camera. "I demonstrate here that you don't need a stereo camera to make 3D images; offset photos work, too. The same technique was used to make a 3D micro-photograph of a rock encountered by NASA's Spirit rover."
Now that Headless has been moved, Phoenix can begin to scrape and scoop some of the icy soil formerly hidden. Of particular interest is the depth of the ice layer beneath the rock. Researchers think rocks on the ground may interfere with a water cycle linking the martian atmosphere with subsurface ice. A measurement of ice depth should distinguish between competing theories. Stay tuned for updates.
LOW SOLAR WIND: The solar wind is losing power. That's the surprising conclusion of scientists working with data from the Ulysses spacecraft, which has been circling the sun in a polar orbit for nearly 20 years. During that time solar wind pressure has dropped more than 20%. Note the blue curve in the "clock plot" below: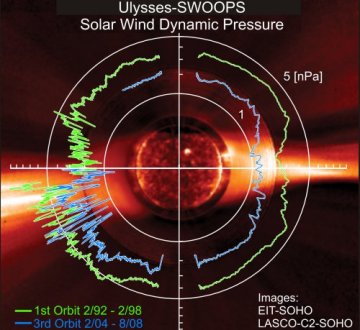 Blue traces solar wind pressure now. For comparison, green traces the significantly higher pressure of the mid-1990s. How this difference fits into the big picture of solar activity over the centuries, no one knows, because solar wind measurements began only 50 years ago with the start of the Space Age. Early measurements were spotty and not always well-calibrated, so, in fact, we know the solar wind well for even less than 50 years. Consequences of low solar wind include fewer geomagnetic storms, more cosmic rays, and NASA's Voyager spacecraft exiting the solar system sooner than anyone expected. Get the full story from Science@NASA.
---
Sept. 2008 Aurora Gallery
[Aurora Alerts] [Night Sky Cameras]