| | | |
| --- | --- | --- |
| They came from outer space--and you can have one! Genuine meteorites are now on sale in the Space Weather Store. | | |
CONTINUED QUIET: With no sunspots actively flaring, solar activity remains low. NOAA forecasters estimate no more than a 1% chance of M- or X-class flares during the next 24 hours. Solar flare alerts: text, voice.
iPHONE PHOTO OF CHINESE SPACE STATION: Yesterday, China's experimental Tiangong-1 space station passed directly in front of the sun over Arizona. Mike Weasner held his iPhone 5s up to the eyepiece of a solar-filtered 8" telescope and captured this picture of the spit-second transit: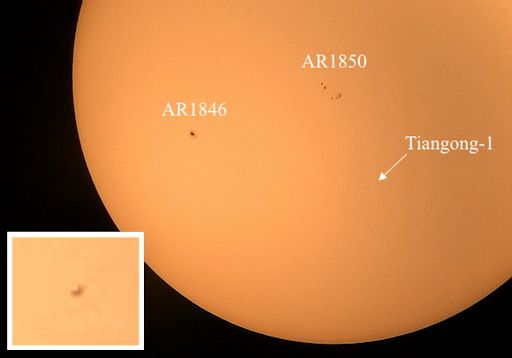 "The Tiangong-1 space station is about 10 meters by 3 meters in size and was 510.4 kilometers from my observatory at the time of the transit," says Weasner. "The angular diameter of the station was only 4.4 arcsec. Yes, that's small!"
Weasner used CalSky to predict the moment of transit. "I began slo-mo video recording with the iOS 7 Camera app on the iPhone 5s at 095015 MST and continued it for one minute to ensure that I captured the space station," he says. "The Tiangong-1 was successfully imaged on several frames as it crossed the sun's disk."
Most readers are familiar with the 450-ton International Space Station. Fewer may be aware of China's 8.5-ton Tiangong-1 (Heavenly Palace-1). It was launched in Sept. 2011 to establish a foothold in Earth orbit for China's fledgling space program. Since then taikonauts (Chinese astronauts) have visited the Tiangong-1 to practice rendevous and docking procedures and to train for living in space. According to some reports, the Tiangong-1 will be de-orbited in late 2013 to make way for more advanced experimental stations, Tiangong-2 and Tiangong-3 in the years ahead. Ultimately, China hopes to place an Mir-class station in orbit by 2020.
See the Tiangong-1 before it goes! Spaceweather's Simple Flybys app turns your smartphone into a field-tested space station tracker. It works for both the ISS and the Tiangong-1.
Realtime Space Weather Photo Gallery
EQUINOX AURORAS: For reasons reseachers don't fully understand, auroras love equinoxes. At this time of year, even small gusts of solar wind can spark colorful lights around the poles. Last night, the aurora australis appeared over South Arm, Tasmania: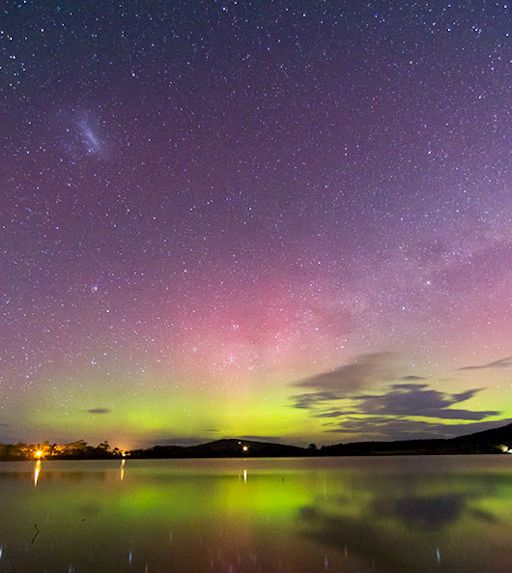 "I captured this image from Betsey Island," says photographer Luke O'Brien. "This is a 30 second exposure at ISO 2500. "
The solar wind blowing past Earth today is relatively slow, only ~350 km/s. As a result, NOAA forecasters estimate a slim 5% chance of polar geomagnetic storms. That might be enough, however, for more equinox auroras. Stay tuned. Aurora alerts: text, voice.
COMET ISON ON TRACK TO BECOME 'IMPRESSIVE': Amateur astronomers around the world are photographing Comet ISON as it approaches Mars in the predawn sky. The comet is not as bright as some forecasters expected. What does that mean for ISON's future prospects? The answer may be found below this color photo of the comet obtained by UK astronomer Damian Peach on Sept. 24th: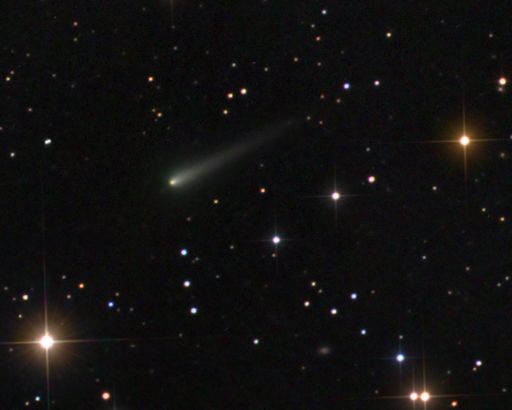 Photo details: 17" CDK with FLI-PL6303e camera. LRGB. L: 5x3mins. RGB: 1x2mins. Sun -18 to -14deg.
At the moment, Comet ISON is about as bright as a 14th magnitude star, which puts it one or two magnitudes dimmer than forecasts. Nevertheless, according to several experts speaking in a NASA video, Comet ISON is still on track to become an impressive sungrazer. John Bortle predicts ISON will rival Venus during the hours leading up to its closest approach to the Sun in November, while Matthew Knight notes that Comet ISON is brighter than Comet Lovejoy was at the same distance from the sun in 2011. As many readers remember, Comet Lovejoy went on to become a spectacular naked-eye object. Comet ISON might do the same.
New images of the comet are coming in every day. Browse the gallery for the latest views:
Realtime Comet ISON Photo Gallery
---
Realtime Noctilucent Cloud Photo Gallery
[previous years: 2003, 2004, 2005, 2006, 2007, 2008, 2009, 2011]