| | | |
| --- | --- | --- |
| Metallic photos of the sun by renowned photographer Greg Piepol bring together the best of art and science. Buy one or a whole set. They make a stellar gift. | | |
MARS AT OPPOSITION: Mars is approaching opposition. On March 3-5, the Red Planet will be up all night long, opposite the sun and as close to Earth as it will get in 2012. Mars shines overhead at midnight 6 times brighter than a 1st magnitude star and looks great through a backyard telescope. [sky map] [photos: #0, #1, #2, #3, #4]
END OF FEBRUARY AURORAS: February is coming to an end with a flourish of auroras. A CME impact followed by a gusty solar wind stream have combined to produce bright lights around the Arctic Circle on Feb. 26-28. Photographer Nenne Åman recorded the scene last night in Revi, Sweden: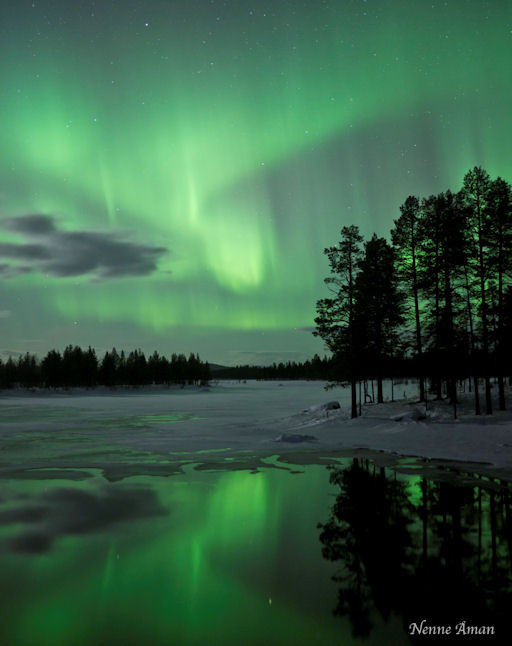 "The show was short but very beautiful!" says Åman.
Because 2012 is a leap year, February isn't finished yet. Arctic sky watchers should be alert tonight for some of the rarest auroras of all--those that occur on Feb. 29th. Aurora alerts: text, phone.
more images: from Christina Hammock of Barrow, Alaska; from Laaksonen Juha of Luvia, Finland; from Thomas Albin of Esrange, Sweden; from Antti Niiranen of Central Finland; from Carolyn Bol of Helensburgh, Scotland; from Dennis Mammana of Fairbanks, Alaska; from Sangku Kim of Canada Yellowknife; from Chad Blakley of Abisko National Park, Sweden; from Kaj Hoglund of Vaasa, Finland; from Kaj Hoglund of Vaasa, Finland; from Graeme Whipps of Chapel Of Garioch, Aberdeenshire; from Hannu Hyvönen of Ruuhimäki, Finland;
February 2012 Aurora Gallery
[previous Februaries: 2011, 2010, 2009, 2008, 2007, 2006, 2004, 2003, 2002]
AFTER-IMAGES: The planetary conjunction of Feb. 26-27 is over now, but photographers are still processing and submitting their images. For sky watchers who missed the show, here is one last round of images, beginning with a video from an abandoned ski run in northern Nebraska: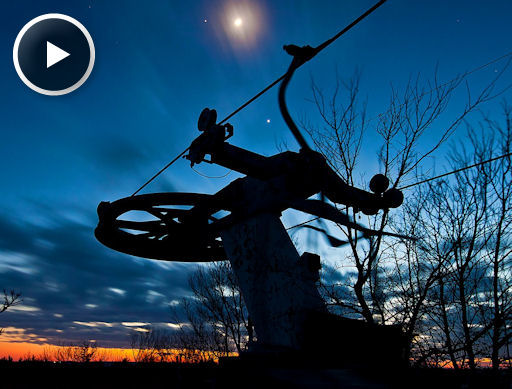 "The combination of planets with pale moon light, deep twilight colors, and the motion blur of clouds during a long exposure was enthralling," says photographer Chris Allington.
As the three-way meeting of Jupiter, Venus and the Moon breaks up, attention turns to the other side of the sky where Mars is approaching Earth for a close encounter on March 3-5. "Turn your back on the dazzling duo of Jupiter and Venus and you can see the third bright planet of the season rising in the east -- Mars!" says astronomy professor Jimmy Westlake of Stagecoach, Colorado. He took this picture of the red planet on Feb. 27th.
more images: from Constantine Emmanouilidi in the Pieria mountains of Greece; from Darryl Reid at The Hoodoos in the Canadian Badlands; from Ronald Mochinski of Warrenton, Virginia; from Sue Stefanowicz of Dixon, IL; from James W. Young of Ecola State Park, Oregon; from Mike Holloway of Van Buren, AR; from Kamila Mazurkiewicz of Puławy, Poland; from Petr Horálek of the Academy of Sciences of the Czech Republic; from Jun Lao of Mason, Ohio; from Marek Nikodem of Szubin, Poland;