| | | |
| --- | --- | --- |
| ANDROID FLYBYS: Our field-tested satellite tracker is now available for Android phones. Features: Global predictions and flyby alarms! Learn more. | | |
HOW LONG CAN THIS GO ON? Answer: Until Friday. For the rest of this week, the ISS will be in almost constant sunlight. This means the space station shines brightly in the night sky every single time it passes overhead. Many observers are witnessing 3, 4, even 5 flybys a night. On June 28th, Mark Humpage photographed a rare triple flyby over Lutterworth, UK. Ready for your own triple? Check the Simple Satellite Tracker for viewing times.
ISS images: from Michał Nyklewicz of Ostrów Wielkopolski, Poland; from Alan Dyer near Gleichen, Alberta; from Monika Landy-Gyebnar of Veszprem, Hungary
PLASMA PUFFS: A magnetic filament is snaking over the sun's northeastern limb, and it is filled with cool dark "puffs" of solar plasma. Pete Lawrence sends this picture from his backyard observatory in Selsey, UK: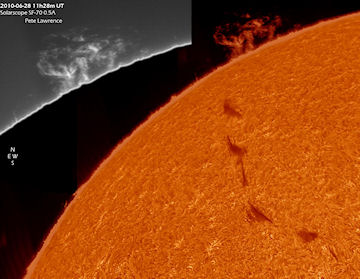 Each puff is about the size of Earth, but much less dense; solar plasma consists mainly of gaseous hydrogen. If you could fit one in our atmosphere, it would float.
Despite the diaphanous nature of these plasma clouds, they can cause quite a stir if they fall to the stellar surface, producing an intense flash of radiation called a "Hyder flare." So far, however, the puffs seem to be held firmly aloft by the magnetic filament shown in this SDO image. No explosions are in the offing.
STORKS AND SPACE WEATHER: This week, sky watchers in northern Europe are witnessing an intense display of electric-blue noctilucent clouds. It's a veritable "NLC storm." The storks are enjoying the show, too: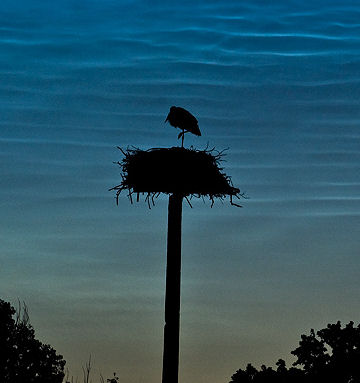 "Each year in late Spring, thousands of storks (Ciconia ciconia) arrive in Poland," reports Marek Nikodem of Szubin, Poland. "Last night I caught one nesting during the most beautiful display of NLCs this year."
Summer is the season for NLCs, and the recent solstice seems to have kicked these mysterious clouds into high gear. High-latitude sky watchers should be alert for electric blue after sunset.
more images: from Peter Rosén of Stockholm, Sweden; from Krzysztof Chomicki of Bielsk Podlaski, Poland; from Michal Laszczynski of Gdynia, Poland; from Adam Mazurkiewicz of Toruń, Kujawsko-Pomorskie, Polska; from Patryk Koniecki of Kwidzyn, Pomorskie, Poland; from Łukasz Strupiechowski of Halinów, Poland
---
Lunar Eclipse Photo Gallery
[Science@NASA: Big Lunar Eclipse] [astronomy alerts]
---
May 2010 Aurora Gallery
[previous Mays: 2008, 2005, 2004, 2003, 2002] [aurora alerts]