| | | |
| --- | --- | --- |
| SPACESHIP SIGHTINGS: Would you like a call when the space station is about to fly over your backyard? Sign up for Spaceweather PHONE. | | |
GEMINID METEOR FORECAST: Mark your calendar. The Geminid meteor shower peaks on Dec. 13th and 14th when Earth passes through a stream of debris from extinct comet 3200 Phaethon. The Geminids have been intensifying in recent years, and 2009 could be the best year yet. Forecasters expect 140+ meteors per hour under the dark skies of a new Moon. [sky map]
UPSIDE-DOWN RAINBOWS: 'tis the season for upside-down rainbows. Just yesterday, one appeared over Dothan, Alabama: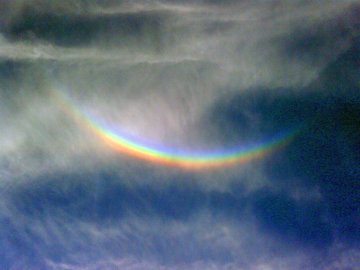 "I've never seen anything like it before," says photographer Maria Doty. "It was a very unusual sight and the colors were bright."
The technical name for this phenomenon is circumzenithal arc or "CZA" for short--and it's no rainbow. CZAs are formed by sunlight shining through plate-shaped ice crystals in high clouds. Atmospheric optics expert Les Cowley calls it "the most beautiful of all ice haloes." First timers often describe the CZA as an 'upside down rainbow' and "someone has also likened it to 'a grin in the sky,'" he adds.
Circumzenithal arcs typically appear in late autumn and early winter when the air is icy and the sun is low. "The CZA forms only when sun is less than 32.3° high," notes Cowley. As winter solstice approaches, "upside down rainbows" will become increasingly common. Look for them!
BIG SPACESHIP: It's wider than a football field, has more than 13,000 sq. ft. of living space, and weighs more than 760,000 Earth-pounds. On top of everything else, it looks great through a telescope. Behold the ISS: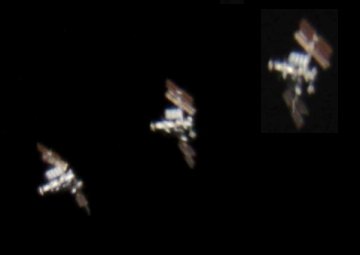 Pete Lardizabal took these pictures on Nov. 28th when the space station flew over his backyard in St Johns, Florida. "I used a 130mm (5 inch) refracting telescope and a Canon 30D digital camera," he says.
No telescope is required, however, to enjoy the ISS. Human eyes do fine. The enormous spaceship reflects enough sunlight to outshine Jupiter or Venus, and it is easy to see in the night sky even from brightly-lit cities. Check the Simple Satellite Tracker for flybys of your home town.
more images: from Christopher Calubaquib of El Sobrante, California; from Mustafa Erol of Antalya/Turkey; from Keith Geary of Shercock, Co.Cavan, Ireland; from Mark Arzadon of San Jacinto, Pangasinan, Philippines
---
November Northern Lights Gallery
[previous Novembers: 2008, 2007, 2006, 2004, 2003, 2002, 2001]
---
2009 Leonid Meteor Gallery
[previous Leonids: 1998, 2001, 2002, 2006]
---