| | | |
| --- | --- | --- |
| BEHOLD THE SUN: Would you like to see fiery prominences and new-cycle sunspots with your own eyes? On sale now: Personal Solar Telescopes. | | |
SPOOKY SKIES: It must be Halloween. A solar wind stream is buffeting Earth's magnetic field, stirring up ghostly auroras around the Arctic Circle. Meanwhile, Venus and the Moon are converging for a spooky conjunction at sunset. It's a boo-utiful view! Get the full story and a sky map from Science@NASA.
BONUS: In an entertaining Youtube video, NASA takes a look back to the Halloween Storms of 2003: watch it!
NEW-CYCLE SUNSPOT: A sunspot is emerging in the sun's northern hemisphere and it appears to be a member of new Solar Cycle 24. Sunspot 1007 is located at high latitude, as new-cycle sunspots always are, and it has the magnetic polariity expected of a Cycle 24 active region: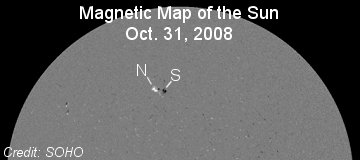 This is the fourth time in October that a new-cycle sunspot has breached the sun's surface. (The previous three occasions were Oct. 4th, 11th and 17th.) In a year of almost no sunspots, four in a single month is a large number, and their association with the new solar cycle is significant. It is a sign that the sun is beginning a slow ascent out of solar minimum to a more active phase in the months and years ahead. Solar minimum is not a permanent condition!
Readers, if you have a solar telescope, train it on sunspot 1007 to witness a sign of things to come.
more images: from J. Fairfull and J. Stetson of South Portland, Maine; from Peter Paice of Belfast, Northern Ireland; from Pavol Rapavy of Rimavska Sobota, Slovakia; from Stephen Ames of Hodgenville, Kentucky;
COLORADO FIREBALL: What are the odds? On Oct. 28th at 7:29 pm Mountain Daylight Time, a random meteoroid hit Earth's atmosphere and disintegrated with the luminosity of a full Moon. The impact, which could've happened anywhere, took place directly above an all-sky video camera in Guffey, Colorado: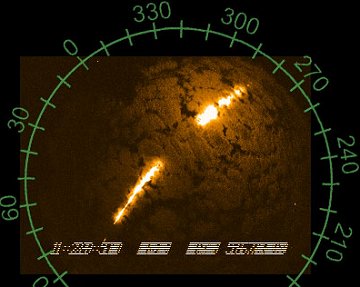 Click to view videos of the fireball
"I've received more than 100 eyewitness reports," says astronomer Chris Peterson, who operates the camera as part of a nightly fireball monitoring program. Combining the data at hand, he estimates that "the meteor had a ground path about 170 miles long and traveled from east to west at 34 km/s (76,000 mph)."
"I was lucky enough to see it myself from inside my house through a window," adds Thomas Ashcraft. What's amazing about that is he was located 300 miles away in New Mexico. "It was brilliant turquoise and green and lasted more than nine seconds." Ashcraft is an amateur radio astronomer and his receivers picked up echoes of distant TV transmitters bouncing off the fireball's ionized trail: listen.
Using a computer model of Earth's meteoroid environment, Bill Cooke of the Marshall Space Flight Center calculates that fireballs this bright come along once every five months or so. Rarely, however, are they witnessed. About 70% of all fireballs streak over uninhabited ocean while half appear during the day, invisible in sunny skies. To catch one in the crosshairs of a meteor camera on a dark albeit cloudy night is good luck indeed.
---
UPDATED: 2008 Orionid Meteor Gallery
[IMO meteor counts] [2006 Orionids]