PARTING SHOT: On its way over the sun's western limb today, sunspot 1029 unleashed a C-class solar flare and a coronal mass ejection: movie. The expanding cloud will not hit Earth.
HALLOWEEN STORMS: On Oct. 30th, the interplanetary magnetic field (IMF) near Earth tilted south, an orientation that weakens our planet's magnetic defenses against solar wind. Indeed, solar wind poured into Earth's magnetosphere and sparked an early Halloween display over Alaska: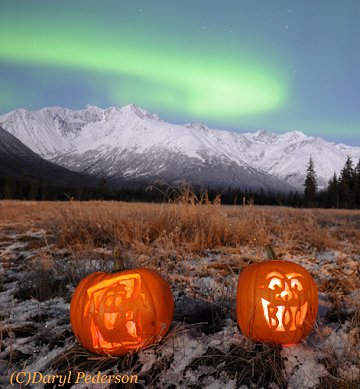 "Bright moonlight almost outshined the auroras," says photographer Daryl Pederson. "But this flare-up was visible over the Chugach mountains in south central Alaska."
Impressive, but it can't hold a pumpkin's candle to the Halloween storms of 2003. Six years ago, a series of 17 major solar flares and coronal mass ejections buffeted Earth for weeks around All Hallows Eve. The storms caused a power outage in Sweden, blinded sensors on the Solar and Heliospheric Observatory (SOHO), damaged the Advanced Composition Explorer (ACE) spacecraft, and may have ripped away some of Mars' atmosphere. In the United States, blood-red Northern Lights startled sky watchers as far south as Florida and Texas. A movie from NASA recalls the ghoulish tale: 6 MB or 32 MB mpeg.
October Northern Lights Gallery
[previous Octobers: 2008, 2007, 2006, 2004, 2003, 2002, 2001]
AROUND THE BEND: The biggest sunspot of the year is heading for the sun's western limb where it will soon disappear from view. But first.... "Wow! Sunspot 1029 is going out with a bang," reports astrophotographer Pete Lawrence who sends this picture from Selsey, UK: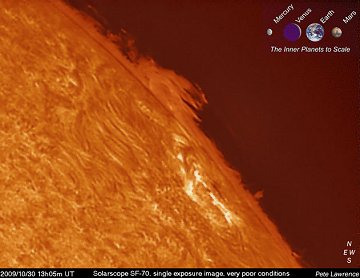 "As AR11029 heads towards the limb, a bright and rather complex prominence associated with the region has rotated into view. My sky conditions were pretty awful today, but the view was still quite awesome!"
This edge-on view of sunspot 1029 should continue for another day. Readers with solar telescopes are encouraged to monitor developments.
more images: from Lecoq Etienne of Mesnil-Panneville Normandy, France; from Jimmy Eubanks of Boiling Springs, South Carolina; from Gianfranco Meregalli of Milano, Italy; from J. Maciaszek and J. Stetson of South Portland, Maine; from Andy Yeung of Hong Kong; from Stephen Ames of Hodgenville, Kentucky; from Francisco A. Rodriguez of Gran Canaria Island, Canary Islands; from Monty Leventhal OAM of Sydney. Australia;
---