| | | |
| --- | --- | --- |
| Where's Saturn? Is that a UFO--or the ISS? What's the name of that star? Get the answers from mySKY--a fun new astronomy helper from Meade. | | |
AURORA ALERT: High-latitude sky watchers, be alert for auroras. Earth is entering a solar wind stream and the encounter is causing geomagnetic storms. This morning in Alaska, "the auroras were so bright they lit up the mountains with an emerald green color," reports Dave Taylor from the Matanuska Glacier. Across the Bering Strait in Russia, an equally dramatic display was observed.
THE VIEW FROM ABOVE: When auroras flare up, a great place to be is Earth orbit. Here is the view from the International Space Station (ISS), 200 miles high: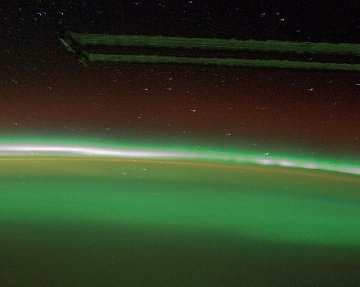 Crewmembers took the picture during a mild geomagnetic storm on Feb. 1st. At the time, the ISS was orbiting over the Bay of St. Lawrence and the camera (a Nikon D2Xs) pointing north with a view of Quebec and Newfoundland. More images: #1, #2, #3, #4, #5.
Although the auroras appear to be below the ISS, they are in fact at about the same altitude. Indeed, from time to time, the space station flies right through the Northern Lights--an indescribable experience according to astronauts who have been there.
Will they experience the indescribable this weekend? A solar wind stream is again buffeting Earth's magnetic field and this could result in a lovely show for the combined crews of the ISS and space shuttle Atlantis. Stay tuned!
SIGHTINGS: Last night in Wirral, UK, John Locker trained his 8-inch telescope on the International Space Station flying overhead and witnessed a brilliant flare from the station's starboard solar array:
Briefly, "the visual magnitude of the station reached -5," says Locker. (That's almost twice as bright as Venus.) "Sunlight hitting the solar array gave the complex a nice warm glow."
Recent construction has expanded the space station, making it an increasingly bright and easy target for backyard telescopes. Sky watchers in Europe and North America, ready your optics for a series of favorable flybys in the evenings ahead: flyby alerts.
EXTRA: Radek Grochowski of Swidnica, Poland, notes that "the space station has grown so large, you don't even need a telescope to see its basic shape. I took these pictures using nothing but a handheld Nikon D300 digital camera and a telephoto lens.
more images: from Albert Engert of Reichenberg, BY, Germany; from Marco Langbroek of Leiden, the Netherlands; from Marc Rathmann of Rosslau, Sachsen-Anhalt, Germany; from Martin Wagner of Sonnenbuehl - Genkingen, Germany; from Quentin Déhais of Normandy, France; from Robert Malmström of Reutlingen - Rommelsbach, Germany; from Francesco De Comite of Mouscron Belgium; from Roy Keeris of Zeist, The Netherlands; from Andy Taylor of Fleet, Hampshire, UK; from