SPACEWEATHER RADIO: The US Air Force Space Surveillance Radar is scanning the skies over North America. When a Perseid meteor passes overhead--"ping"--there is an echo. Tune into Spaceweather Radio for a live audio feed from the radar facility.
SUBSIDING PERSEIDS: The Perseid meteor shower is subsiding. According to the International Meteor Organization, the shower peaked on August 12th with 140 meteors per hour. Now Earth is exiting the debris stream of Comet Swift Tuttle and rates are dropping back to normal lows: data.
During the peak "we recorded a bright meteor or fireball over the Marshall Space Flight Center every 3 minutes--a fabulous rate," says Bill Cooke of NASA's Meteoroid Environment Office. This image is a composite of the 130 brightest: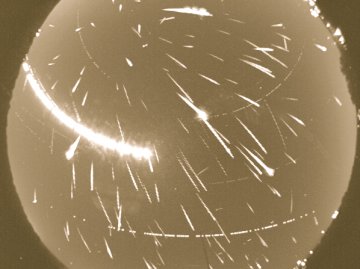 Cooke's meteor detection system consists of two cameras separated by 100 miles--one in Alabama and one in Georgia. The wide baseline allows him to triangulate the trajectory of meteoroids with some accuracy. Here is a map of the Perseids shown above. "Last night, says Cooke, "the stars really did fall on Alabama!"
UPDATED: 2009 Perseid Photo Gallery
[Science@NASA: The Perseids are Coming, Horse Flies and Meteors]
SPLIT SKY: "On my way to view the Perseid meteor shower on August 11th, I witnessed a spectacular sunset," reports Tyler Burg of Little Sioux, Iowa. "The sky seemed to split in half!"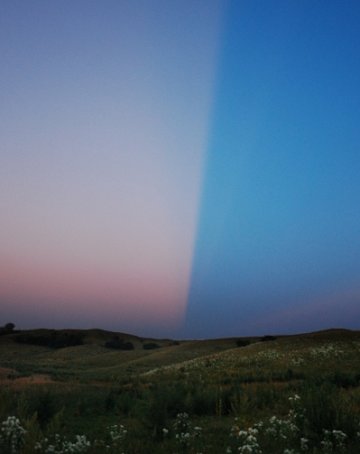 The dark half was a vast shadow, Burg realized, and he looked around to find the source. "The shadow was cast by a thunderstorm floating between me and the sun," he says. "It was crackling beautifully with lightning."
"Later that night I witnessed 217 meteors in a 6 hour observing session," says Burg. "It was the greatest number of meteors I've ever seen in one night. In one outburst there were 41 meteors in 30 minutes, and once I saw 5 Perseids in only 30 seconds!"
more images: from Mike Holloway of Van Buren, Arkansas; from Tom Soetaert of Lawrence, Kansas; from Alan Dyer of Gleichen, Alberta, Canada; from Doug Zubenel of De Soto, Kansas
---
2009 Noctilucent Photo Gallery
[previous years: 2008, 2007, 2006, 2005, 2004, 2003]
---
July 2009 Aurora Gallery
[previous Julys: 2008, 2007, 2006, 2005, 2004, 2003]
---