| | | |
| --- | --- | --- |
| NEW AND IMPROVED: Turn your iPhone or iPod Touch into a field-tested global satellite tracker. The Satellite Flybys app now works in all countries. | | |
SUNSPOT SPRING: After fading away for a day, sunspot 1056 has returned and it is growing rapidly. The active region does not yet pose a threat for strong flares but this could change if its expansion continues apace. Readers with solar telescopes are encouraged to monitor developments.
sunspot images: from James Kevin Ty of Manila, Philippines; from John C McConnell of Maghaberry Northern Ireland; from Peter Paice of Belfast, Northern Ireland
MOON AND STARS: Last night, the crescent Moon and the Pleiades star cluster gathered for a pretty close encounter over North America. In Texas, the encounter was so close, the Moon actually covered some of the Seven Sisters. Anna Morris sends this picture from San Antonio: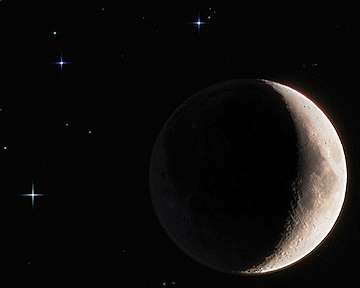 "We threw a star party to observe the occultation," says Morris. "Despite poor weather we were treated to a fantastic scene through brief breaks in the fast-moving clouds. Using a Nikon D40 and an Orion EON80ED telescope, I made four bracketed exposures to capture the Pleiades, the Moon's brightly-lit crescent and the Earthshine. This image is a combination of the four."
Americans who missed the occultation can always catch the next one like it ... in the year 2023. Oops. Browse the links below for a 13-year preview.
more images: from Tavi Greiner of Coastal North Carolina; from Tim Printy of Manchester, NH; from Tara O'Leary north of Fairbanks, Alaska; from Monika Landy-Gyebnar of Veszprem, Hungary; from Tamas Ladanyi of Veszprem, Hungary; from Mustafa Erol of Antalya, Turkey; from Antonios Pantelidis of Florina, Greece; from Edmund E Kasaitis of Manchester, MD
ISS OVER TIMES SQUARE: It's not easy to see the stars from New York. Almost nothing in the heavens can compete with the busy glare of the great city's urban lights--emphasis on almost. Patrick G. McCourt sends this report: "We were in Times Square on March 19th when the International Space Station (ISS) passed overhead. The ambient light is so bright that no stars were visible, even though the skies were perfectly clear. Yet, we could easily spot the ISS as it slipped silently over the traffic's roar."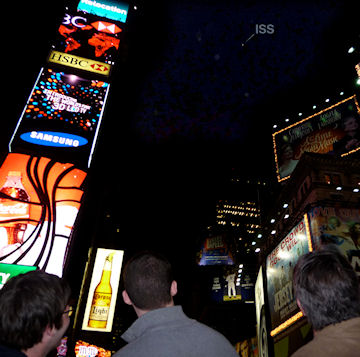 "I had to adjust the levels in Photoshop to make it visible in the photo, but this fairly accurately represents what we saw with the naked eye. Tell the astronauts we gave their regards to Broadway."
If you can see the ISS in Times Square, you can see it anywhere! Check the Simple Satellite Tracker for flybys of your home town. And don't forget, there's an app for that, too.
---
March Northern Lights Gallery
[previous Marches: 2009, 2008, 2007, 2006, 2005, 2004, 2003]