| | | |
| --- | --- | --- |
| AURORA ALERTS: Did you miss the Northern Lights of June 25th? Next time get a wake-up call from Space Weather PHONE. | | |
SOLAR SAIL: This summer, NASA engineers will try to realize a dream older than the Space Age itself--the deployment of a working solar sail in Earth orbit. NanoSail-D is scheduled for launch onboard a SpaceX Falcon 1 rocket on July 29, 2008: full story.
LAVENDER SUNS: California is on fire. Hundreds of wildfires in the northern half of the state are filling the air with smoke and filling the sky with ... lavender suns? Christopher Calubaquib saw one on June 26th when he looked through the haze over El Sobrante, California: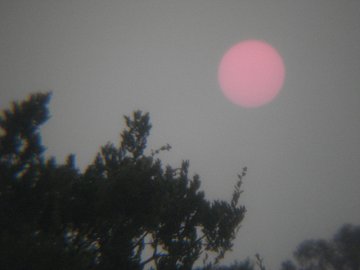 "Because of the smoke, the sun was not very bright, and I didn't need to use a filter to take the picture," says Calubaquib. The colors are genuine. A day later, another lavender sun appeared over Arcata, California: "This photo was not processed or retouched; it's how the sun really looked," says photographer Mike Kelly.
What makes the sun lavender? It happens when the air is filled with particles measuring about 1 micron (10-6 m) across, a little larger than the wavelength of red light. Micron-sized particles scatter red light strongly, while letting shades of blue pass through. The mix of ash over El Sobrante produced a lavender hue, reminiscent of the great Alberta muskeg fires of September 1950. Believe it or not, the same physics can turn the Moon blue, but that is another story.
Is the smoke wafting through your hometown this weekend? Be alert for the lavender sun.
WHERE ARE THE CANADIAN NLCs? Noctilucent cloud (NLC) activity is intensifying. In the past two weeks, vivid electric-blue waves and tendrils have been sighted in Russia, Poland, Latvia, Lithuania, Denmark, Germany, the Czech republic, England, Ireland, Northern Ireland, Scotland and Wales. Latitudes between 50o and 56o north have been favored with particularly bright displays. And that raises a question: Where are the Canadian NLCs? (continued below)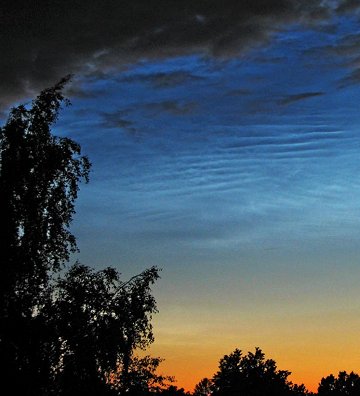 NLCs over Latvia on June 26th. Photo credit: Aigar Truhin. [gallery]
NLC sightings from the same range of latitudes in Canada have been conspicuous by their absence. "I look for NLCs every night, and there haven't been any," reports Ed Steer of Edmonton, Alberta. "Tonight (June 26th, the date of a big display over Europe) has perfect viewing conditions and there isn't even a hint of any around." Only a pair of photos of a weak display over Calgary on June 27th bucks the trend.
NLCs in Canada are either substantially absent or going unnoticed. One factor at work may be the low population density of Canada compared to Europe in range of NLC activity. Fewer eyeballs means fewer sightings. On the other hand, NLCs may be truly avoiding North America. These are mysterious clouds and their behavior is unpredictable.
Canadian readers, your observations are needed. Check the photo gallery for observing tips and be alert for NLCs.
---
June 2008 Aurora Gallery
[Aurora Alerts] [Night-sky Cameras]