Would you like to hear about solar flares--while they're flaring? Get instant alerts from SpaceWeather PHONE.

AURORA WATCH: Earth is entering a solar wind stream, and this could spark a mild geomagnetic storm. High-latitude sky watchers should be alert for auroras.

ACTIVE SUNSPOT: Sunspot 960 has developed a "beta-gamma-delta" magnetic field that harbors energy for powerful X-class solar flares. NOAA forecasters estimate a 15% chance of such a flare during the next 24 hours. A big eruption could trigger ion storms, radio fadeouts and, if all goes well, auroras. Stay tuned!

Amateur astronomer Franck Charlier sends this picture from his backyard in Marines, France: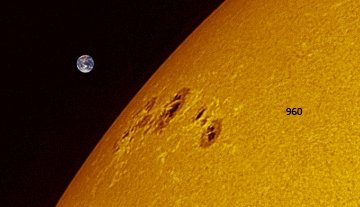 Sunspot 960 has a lot to offer. As shown above, several of the sunspot's dark magnetic islands are larger than our entire planet (Earth inserted for comparison). From end to end, the complex stretches 140,000 km, its sheer size making it an attractive target for backyard solar telescopes.
It is also a good target for shortwave radios. Sunspot 960 is crackling with M-class solar flares, and these explosions may be detected by radio listeners in two ways: (1) Solar flares sometimes produce delightfully audible radio bursts at frequencies greater than about 15 MHz. (2) The same solar flares can cause shortwave fadeouts at lower frequencies. For instance, an M3-flare from sunspot 960 on June 1st caused a shortwave fadeout over Europe. In the Czech Republic, Mirek Najman captured the event in this plot of a fading 3.5 MHz radio beacon.
more images: from Sylvain Weiller of Saint Rémy lès Chevreuse, France; from artist Mark Seibold of Troutdale, Oregon; from Pete Lawrence of Selsey, UK; from P-M Hedén of Vallentuna, Sweden; from Pavol Rapavy of Rimavska Sobota, Slovakia; from "Mahindru" of Oakleigh, Australia; from Joel Bavais of Ath, Belgium; from Didier Favre of Brétigny, France; from Anthony Ayiomamitis of Northeastern outskirts of Athens, Greece; from Mark Crawford of London, UK; from Javier Temprano of Santander, Spain.
COCCINELLA SEPTEMPUNCTATA: When Martin Wagner of Sonnenbuehl-Genkingen, Germany, looked at the viewscreen of his Canon EOS 300D and saw the sunspot pictured below, "I thought a mega-flare was about to erupt!" (continued below)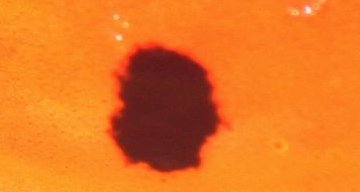 Photo details: Canon EOS 300D, 35-70mm Minolta lens, 400ASA, 1/200s
But there was no danger of an explosion. Indeed, this is not even a sunspot. What is it? Wagner zoomed out to discover the answer: Click here.
Strange but true: The markings on a ladybug's back resemble sunspots while the dappled texture of the shell mimics solar granulation. The species in Wagner's photo is Coccinella septempunctata, the 7-spotted ladybug, so now we know the sunspot number, too!