| | | |
| --- | --- | --- |
| SATELLITE FLYBYS APP: Turn your iPhone or iPod into a field-tested satellite tracker! Spaceweather.com presents the Satellite Flybys app. | | |
SPIRIT'S UNCERTAIN FUTURE: NASA's Mars rover Spirit is about to mark six years of Red Planet exploration. However, the upcoming Martian winter could end the roving career of the beloved, scrappy robot: full story.
ORANGE BLUE MOON: Some people insist that last night's full moon was not Blue. They're right. It was orange: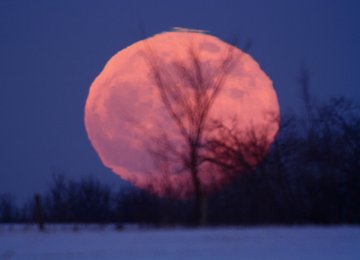 "This was, hands down, the most spectacular moonrise I have ever seen--an orange Blue moon!" says photographer Doug Zubenel of Kansas.
Orange moons are run-of-the-mill atmospheric optics. Earth's atmosphere acts as a dirty lens, distorting and reddening the Moon whenever it hangs too close to the horizon. Orange moons can be seen on most nights if you know when to look. Orange Blue moons, on the other hand, are a little more unusual. They come along once every 2.7 years, on average. Next up: August 31, 2012. Mark your calendar and, meanwhile, browse the links below.
more Orange Blue Moon shots: from Darrell Oake of Dartmouth NS Canada; from Stephen O'Meara of Volcano, Hawaii; from Konstantinos Christodoulopoulos of Almyri Beach, Korinthos, Greece; from P. Nikolakakos of Sparta, Greece;
BLUE MOON ECLIPSE: Blue moons--rare. Blue moons on New Year's Eve--really rare. A lunar eclipse of a Blue Moon on New Year's Eve--well, that's just ridiculous.
Yet that's exactly what happened yesterday in Europe, Asia, Africa and parts of Alaska. The Blue moon on New Year's Eve passed through the outskirts of Earth's shadow, producing this 8% lunar eclipse: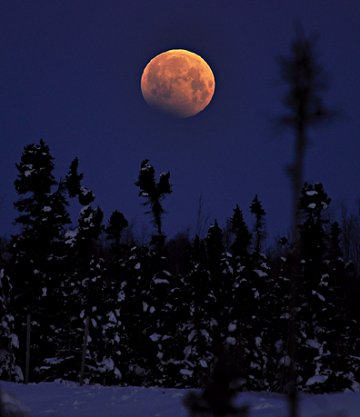 "The skies over Alaska were crystal-clear Thursday morning, affording onlookers a nice view of the eclipse of the Blue moon," says photographer Dave Parkhurst on the Knik Arm of the Cook Inlet. "It was a nice way to start the last day of the year."
For the record, the average annual rate of blue Moons is 0.37 per year. The rate of Blue moons on New Year's Eve is 0.05 per year. The rate of lunar eclipses of Blue moons on New Year's Eve is 0.01 per year. Click on the link below to view a very rare gallery:
Blue Moon Eclipse Gallery
[Science@NASA: Blue Moon on New Year's Eve]
---
December Northern Lights Gallery
[previous Decembers: 2008, 2007, 2006, 2005, 2001, 2000]
---