| | | |
| --- | --- | --- |
| Don't just watch shooting stars. Wear them! Authentic meteorite jewelry for Valentine's Day is now available in the SpaceWeather Store. | | |
AURORA WATCH: NOAA forecasters estimate a 15% chance of minor geomagnetic storms on Feb. 3rd in response to the expected arrival of a solar wind stream. High-latitude sky watchers should be alert for auroras.
FARSIDE ERUPTION: Sunspot AR1402, the source of last week's X-flare and many beautiful auroras, is on the farside of the sun now. Although we can't see it, the active region is still erupting. During the late hours of Jan. 31st, the Solar and Heliospheric Observatory observed this coronal mass ejection flying over the sun's western limb: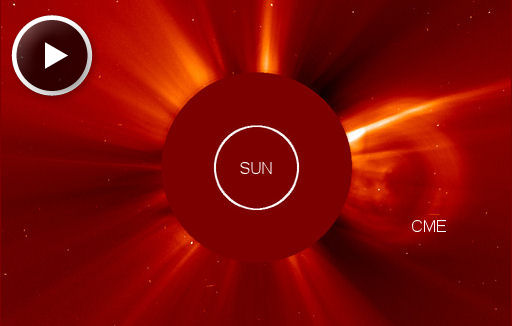 The cloud is heading in the direction of NASA's STEREO-Ahead spacecraft, which witnessed the explosion from directly above the sunspot. An initial inspection of the data suggests that no planets are in the line of fire.
If AR1402 hangs together for another two weeks, it will complete its transit of the farside and re-emerge on the Earthside of the sun. A return is unlikely, however, because sunspots rarely last for more than one solar rotation.
ASTROPHOTO-OP: Astrophotographers, ready your cameras. On Friday morning, February 3rd, Comet Garradd (C/2009 P1) will pass approximately 0.5 degrees from globular cluster M92 in Hercules. Last night, Rolando Ligustri took this picture of the converging pair using a remotely-controlled 106mm telescope in New Mexico: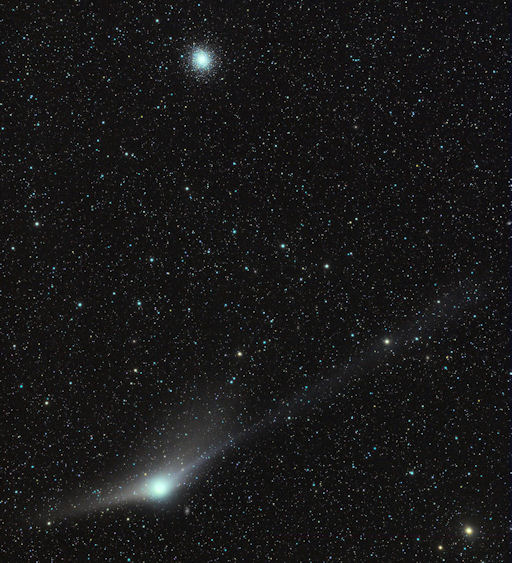 The ten minute exposure shows the comet's fan-shaped dust tail, which roughly traces the comet's orbit, and its pencil-thin gas tail, which points almost directly away from the sun due to the action of the solar wind.
The star cluster and the comet are both located in the constellation Hercules, high overhead in northern hemisphere skies before sunrise. Sky and Telescope offers a sky map of the comet's path. Observers with computerized GOTO telescopes can track the comet by plugging in orbital elements from the Minor Planet Center.
At the moment, Comet Garradd has an astronomical magnitude of +6.5, invisible to the naked eye but an easy target for backyard telescopes. Forecasters expect it to brighten by a factor of ~2 in the weeks ahead as the comet approaches Earth for a 1.3 AU close encounter in early March. This could be a good time to invest in a Comet Hunter.
more images: from Lorenzo Comolli of Bogli, Italy; from Gregg Ruppel of Ellisville, MO; from Mike Broussard of Maurice, Louisiana; from Dr Paolo Candy of Ci.A.O. Cimini Astronomical Observatory - Italy
---
January 2012 Aurora Gallery
[previous Januaries: 2010, 2009, 2008, 2007, 2005, 2004]
---
Comet Lovejoy Gallery
[previous comets: McNaught, Holmes, Lulin, Tuttle, Ikeya-Zhang]