What's the name of that star? Where's Saturn? Get the answers from mySKY--a fun new astronomy helper from Meade.
VANISHING PLANET: On May 2nd, Mercury will pass directly behind the sun and vanish for about 8 hours. A coronagraph onboard the SOHO spacecraft is recording the encounter: Click here to watch.
ELLERMAN BOMBS: If you have a solar telescope, please look at sunspot 953. It is seething with activity. This image from Pete Lawrence of Selsey, UK, caught several "Ellerman Bombs" going off:

Sunspot 953: The view through a Coronado Personal Solar Telescope.
The bombs are the bright white specks scattered around the sunspot; they are explosions about one-millionth as powerful as a true solar flare. Ellerman bombs are named after Ferdinand Ellerman who studied the tiny blasts in the early 20th century. Of course, "tiny" is relative. A single Ellerman bomb releases about 1026 ergs of energy--equal to ten million atomic bombs.
A real solar flare may be in the offing. Sunspot 953 has a "beta-gamma-delta" magnetic field that harbors energy for X-flares; NOAA forecasters estimate a 5% chance of such an explosion during the next 24 hours.
more images: from Emiel Veldhuis of Zwolle, the Netherlands; from Patrick Bornet of Saint Martin sur Nohain, Nièvre France; from Franck Charlier of Marines, Val d'Oise, France; from Michael Borman of Evansville, Indiana.
MOON HALOS: There's a full Moon this week (May 2nd at 10:09 UT to be precise), and that means it's time to watch out for Moon halos. Tim Thorpe photographed this one from Copeville, South Australia: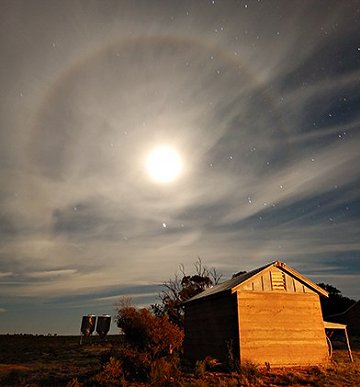 Photo details: Nikon D70, 10mm focal length, ISO 200, 10 seconds
"A thin veil of cirrus and the nearly-full Moon got together to create one of the best 'rings around the Moon' I have ever seen," says Thorpe.
The ring was formed by ice crystals in the clouds. Pencil-shaped crystals catch rays of moonlight and bend them into a rainbow-colored circle as shown. When you see a moon halo, be alert for moondogs, moon pillars and other exotic arcs, too. They're all made by ice in the sky.
Note: Winter weather is not required for these halos. Even if it is hot on the ground, clouds floating miles overhead can be freezing cold. Ice halos are, therefore, a year-round phenomenon.