| | | |
| --- | --- | --- |
| Turn your cell phone into a field-tested satellite tracker. Works for Android and iPhone. | | |
WHAT'S HITTING EARTH? Have you ever seen a fireball streak through the night sky and gone to bed wondering, "What was that?" NASA is deploying a network of smart cameras that will have an answer waiting for you when you wake up. Get the full story from Science@NASA.
GEOMAGNETIC STORM: A solar wind stream hit Earth's magnetic field on March 1st, sparking a day-long geomagnetic storm and bright auroras around the Arctic Circle. NASA space physicist James Spann photographed the display from Poker Flat, Alaska, where he is attending a scientific conference to study (you guessed it) auroras: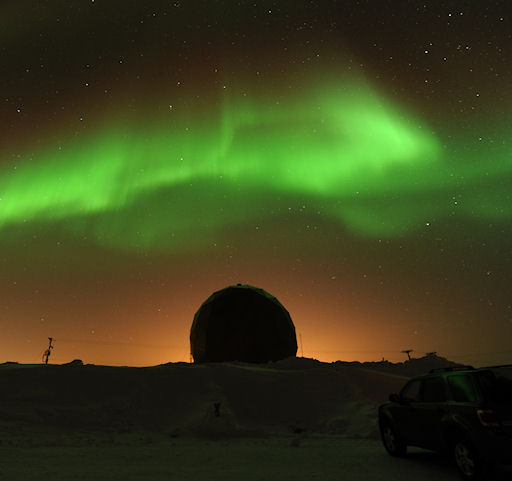 Photo details: Nikon D700 with 14-24mm lens at f/3.5, exposure of 25 seconds at 14 mm, ISO 1000
"This is the first time I have seen the aurora borealis in person," says Spann who lives in Alabama. "It was fantastic--the greatest light show on Earth. It was cold (<-20 F) outside but worth every minute of exposure and lost sleep. I am afraid now that I have been ruined for life since my first personal viewing of the aurora was so amazing."
As a researcher he also appreciated the greater meaning of the display: "This is the most obvious and accessible evidence of the connectivity that Earth has with our star the sun. Witnessing the connectivity first-hand was particularly special to me."
The storm is subsiding now, but it could start up again in response to ongoing high-speed solar wind. Stay tuned. [Aurora alerts: phone, text]
more images: from Doug Kiesling of Saint Cloud, MN; from Mike Dickson of Kelso, Scotland; from Paul Evans of Larne, Northern Ireland; from Bjarki Mikkelsen of Porjus Jokkmokk Sweden; from Robin Ramstad of Luleå, Norrbotten, Sweden; from Geir Øye of Ørsta, Norway; from John Pennell of Wasilla, Alaska; from Alan C Tough of Elgin, Moray, Scotland; from Janis Satrovskis of Burtnieki, Latvia; from Markus Tingsnäs of Rättvik, Sweden; from Greger Lissollas of Rättvik, Sweden;
SPACE STATION TRANSIT: This week, amateur astronomer Alan Friedman traveled 1800 miles to see an event that was over in a fraction of a second. "It was totally worth the trip," says the New York resident who, on March 1st, caught the International Space Station (ISS) transiting the sun over south Florida: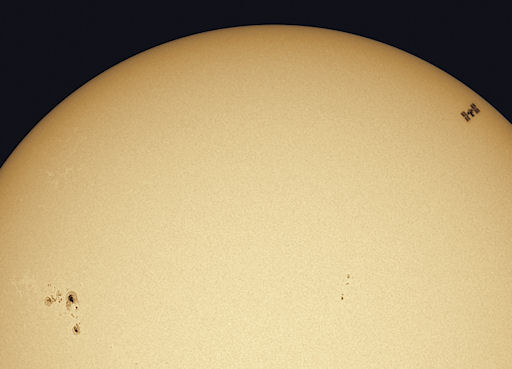 "The ISS paid a visit to the Winter Star Party in the Florida Keys," says Friedman. "A fine transit of the ISS across the sun was scheduled for 2:39 p.m. not far from this annual gathering of astronomers. I was scheduled to give a talk on astrophotography ending at 1:30 p.m. As soon as it was done, Brian Shelton, Mark Beale and I made a mad dash to set up and record the pass. We barely made it in time to catch the ISS silhouetted against the limb of the sun. Total elapsed time of the transit from our location at Knights Key Resort and Marina - one fifth of a second. A blink of an eye and an 1800 mile drive to see it!"
---
NanoSail-D Photo Gallery
[NASA: Solar Sail Stunner] [Photo Contest]
---
February 2011 Aurora Photo Gallery
[previous Februaries: 2010, 2009, 2008, 2007, 2006, 2004, 2003, 2002]