| | | |
| --- | --- | --- |
| Metallic photos of the sun by renowned photographer Greg Piepol bring together the best of art and science. Buy one or a whole set. They make a stellar gift. | | |
NORTHERN LIGHTS: A solar wind stream that hit Earth's magnetic field during the weekend sent Northern Lights spilling over the Canadian border into the USA. "Magnificent May Day auroras lit up the night sky over Chippewa Falls, Wisconsin, on May 1st and into the wee morning hours of May 2nd," reports Tony Wilder. "They shimmered and flickered and waved from the bottom up as green swirls danced from left to right." Northern Lights were also spotted over Lake Superior in Michigan. AURORA ALERTS: phone, text.
SOUTHERN LIGHTS: The solar wind impact sparked auroras over both ends of the planet. "After a slow start to the aurora observing season, we are finally getting some beautiful Aurora Australis here at the geographic South Pole (90 degrees S. latitude)," reports J. Dana Hrubes, science leader at the Amundsen-Scott Station. He took this picture at the peak of the geomagnetic storm on May 1st:
"Red and green auroras were directly overhead and appeared to be 'raining' down on us," says Hrubes. "It was much too cold for rain, however; the air temperature outside was -85 F. The sun set on March 23rd and will not rise again until six months later, so we will surely see more of these lights in the dark nights ahead."
Indeed, the solar wind continues to blow at high speed, and NOAA forecasters estimate a 50% chance of more geomagnetic activity during the next 24 hours. High latitude sky watchers should remain alert for colorful 'rain.'
more images: from Uwe Mueller of Ascheffel, Germany; from Janusz Jakub Kuc of Co. Donegal, Ireland; from Olivier Du Tre of Cochrane, Alberta, Canada; from Zoltan Kenwell of Edmonton, Alberta, Canada; from Steve Milner of Ft St John, British Columbia, Canada; from Paul Klauninger of Ottawa, Ontario, Canada; from Yasser Maghsoudi of Chochrane, Alberta, Canada;
April 2011 Aurora Gallery
[previous Aprils: 2010, 2009, 2008, 2007, 2006, 2005, 2004, 2003, 2002]
MORNING PLANETS: The Great Morning Planet Show of May 2011 is underway. Every morning for the rest of this month, you can see a beautiful gathering of four planets in the eastern sky. They are Mars, Jupiter, Venus and Mercury, shown here on May 1st over Magnetic Island in east Australia: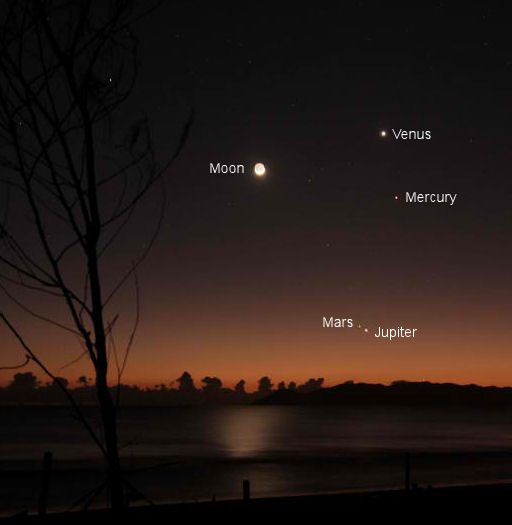 "This is beautiful sight before dawn," says photographer Liz Gleeson. "Venus and Mercury have been visible for a couple of weeks, but now Mars and Jupiter have joined them for a four-way conjunction."
An animation from Sky & Telescope shows what is in store for the rest of the month. The quartet of worlds will rearrange themselves on a daily basis, forming different shapes in the pre-dawn sky. The best mornings are the ones around May 11th, when Venus and Jupiter converge to form a tight pair. They are so bright, they might fool you into thinking you've witnessed a double supernova beaming through the morning twilight. But, no, it's just the two brightest planets in our own solar system.
Stay tuned for a whole month of morning marvels!
more images: from Simon Chan of Perth, Western Australia; from Stephen Mudge of Brisbane, Queensland, Australia