Where's Saturn? Is that a UFO--or the ISS? What's the name of that star? Get the answers from mySKY--a fun new astronomy helper from Meade.

LUNAR OCCULTATION: Tomorrow morning, Saturday, Nov. 3rd, the crescent Moon will pass directly in front of the bright star Regulus. The occultation will be visible across southern parts of the United States, Mexico and most of South America. The best time to look is around 5:00 a.m. PDT (1200 UT) when the star pops out from behind the Moon's dark limb: timetables, sky map.

INSIDE COMET HOLMES: Comet 17P/Holmes is plainly visible to the naked eye. "Its size and brightness make it a veritable urban comet," says Valentin Grigore of Targoviste, Romania. "You can see it right through city lights."

Even so, there's no substitute for dark country skies and a big telescope. "Here is the deepest shot of any comet I have ever taken, a 2-hour exposure through my 12.5-inch Newtonian reflector," says Chris Schur of Payson, Arizona: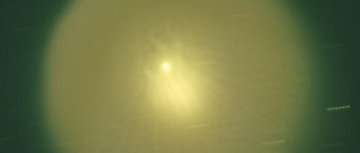 "Clearly seen here are delicate internal rays, a bright jet, and a brilliant sunshine-yellow core," he says. "The comet's outer envelope is a stunning emerald color."
The jets and rays, reported now by a growing number of photographers, remind us of the fantastic explosion that took place on Oct. 23rd when Comet Holmes increased in brightness a million-fold in less than 24 hours. Ever since, the sunshine yellow core has been expanding--fed by jets? Or driven by the momentum of a blast that no one saw until it was over? No one knows. The underlying cause of the explosion and current events at the core remain a mystery.
And mysteries should be savored: After sunset, point your telescope at that 3rd magnitude fuzzball in the constellation Perseus. The strangest comet you've ever seen is waiting in the eyepiece.
Comet 17P/Holmes Photo Gallery
[Interactive World Map of Comet Photos]
[sky map] [ephemeris] [3D orbit] [Night Sky Cameras]

WHAT'S IN YOUR COFFEE? Take a look in your morning coffee. Is there anything in there other than joe? This week in London, Maurice Gavin found an entire rainbow. "I was staring into my black coffee--prior to adding cream!--and watching the steam rise from the surface when I noticed a subtle and constantly shifting rainbow in the grainy surface," he says. "Very pretty!"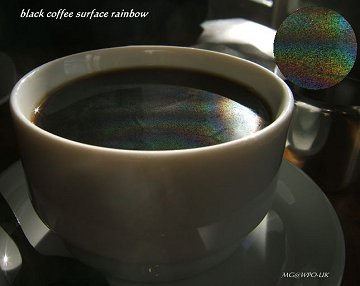 At first glance this seems to be the oil slick effect: Sunlight striking a thin film of aromatic oil at the top of the cup creates a rainbow-like spectrum of colors. But that can't be the whole story. The oil in this cup is not spread into a simple film; instead, it seems to be organized as a large number of very small floating droplets, says Gavin.
So what makes the rainbow? "One possibility is Quételet rings," speculates atmospheric optics expert Les Cowley. "These are seen for example on dusty glass and some algae covered lakes. They work like this: Imagine a particle very close to a mirror. Light will be scattered directly from the particle. Light is also reflected by the mirror and then scattered by the particle. If the particle is small then the two scattered wavefronts interfere and you have colored fringes."
"I am not absolutely sure whether the Quételet process is the one acting here. There could be a lot of things going on in Gavin's coffee," says Cowley. "He should drink it up while it is hot!"