What's the name of that star? Where's Saturn? Get the answers from mySKY--a fun new astronomy helper from Meade.
HALLEY'S METEORS: Earth is entering a stream of dust from Halley's Comet, and this will produce a meteor shower (the "eta Aquarids") peaking on May 6th. Unfortunately, moonlight will interfere with the display, wiping out all but the brightest meteors. People who wake up before dawn on Sunday and look east might nevertheless catch a few specks of Halley's comet disintegrating in Earth's atmosphere: full story.
TWO YEARS IN TWO SECONDS: No two full Moons are exactly alike. To prove it, Laurent Laveder spent the last two years taking pictures of every full Moon over his home in France, and here is the result: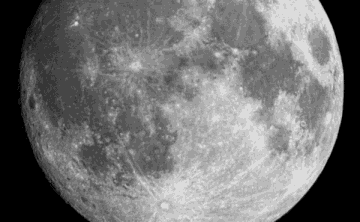 Photo details: Canon 350D, 2x Barlow, Megrez 80/480 refractor, 1/250 s, 200 ASA
The Moon rocks and rolls, shrinks and swells, never presenting precisely the same face twice. "In the full-sized animation, you'll see 2 years condensed in only 2 seconds!" says Laveder. "Sorry for the mal de mer."
Wait a minute. Didn't they teach us in school that the same side of the Moon always faces Earth? Yes, but that's only approximately true. Because the Moon's orbit is slightly elliptical (5%) and slightly tilted (5o), we view each month's full Moon from a slightly different distance and angle. The rocking motions are called libration; because of them we can observe not just 50% but rather 59% of the Moon's surface.
3D BONUS! Put on your 3D glasses. Spaceweather reader Hanno Falk of Flensburg, Germany, combined two of Laveder's photos to create a striking stereo image of the full Moon. If you don't have 3D glasses, try the crossed-eyed version instead.
ELLERMAN BOMBS: "I was photographing sunspot 953 this morning, when suddenly four bright white dots just appeared in front of my eyes from nowhere," says P-M Hedén of Vallentuna, Sweden. "It was really an amazing moment." The white dots he saw were Ellerman Bombs: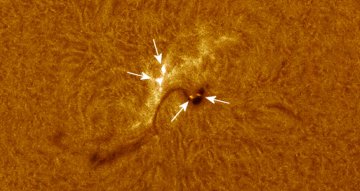 Photo details: Orion 80ED, Canon Digital Rebel XT, SolarMax60 filter.
Sometimes called "microflares," Ellerman Bombs are magnetic explosions about one-millionth as powerful as a true solar flare. They are named after Ferdinand Ellerman who studied the tiny blasts in the early 20th century. Of course, "tiny" is relative. A single Ellerman bomb releases about 1026 ergs of energy--equal to ten million atomic bombs. Sunspot 953 is crackling with these blasts, which makes it very entertaining to watch.
movie: "Here is a one-hour movie I made using my Coronado Personal Solar Telescope," says Christoph Otawa of Geretsried, Germany. "You can see the filament moving and a small Ellerman bomb going off."
more images: from T. Johnstone and J. Stetson of South Portland, Maine; from Pete Lawrence of Selsey, West Sussex, UK; from Rogerio Marcon of Campinas - Brasil; from Jack Newton of Osoyoos British Columbia; from Robert Arnold on the Isle of Skye, Scotland; from Eva Seidenfaden of Trier, Germany; from Branden Morrissette of South Portland, Maine.