| | | |
| --- | --- | --- |
| Come to Tromsø and share Marianne's passion for rural photography: Chasethelighttours.co.uk invites you to experience "Heaven on Earth" with an aurora, fjord, fishing, whale watching, photography or sightseeing tour. | | |
CO-ROTATING INTERACTION REGION: NOAA forecasters estimate a 55% chance of polar geomagnetic storms on July 5th when a co-rotating interaction region (CIR) is expected to hit Earth's magnetic field. CIRs are transition zones between fast- and slow-moving solar wind streams. Solar wind plasma piles up in these regions, producing density gradients and shock waves that do a good job of sparking auroras. Aurora alerts: text or voice.
3RD OF JULY FIREWORKS: Sunspot AR2378 in the sun's southern hemisphere is increasingly active. On July 3rd at 12:51 UT it unleashed an impulsive M1.5-class solar flare. NASA's Solar Dynamics Observatory captured the extreme ultraviolet flash: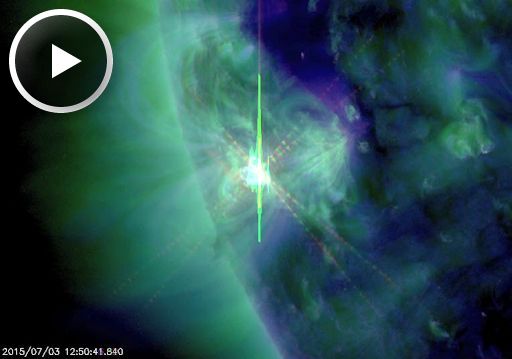 UV radiation from the flare ionized the top of Earth's atmosphere, causing a mild radio blackout over the Atlantic Ocean. Mariners and ham radio operators might have noticed the disturbance at frequencies below ~10 MHz. The explosion did not produce an Earth-directed CME.
4th of July fireworks could be in the offing if AR2378 continues to crackle with flares. Stay tuned. Solar flare alerts: text or voice.
Realtime Space Weather Photo Gallery
PING-PONG MOON TRICK: The Moon is nearly full tonight, which means it's the perfect time for a bit of trickery. All you need is a small telescope and a ping-pong ball to create a 3-dimensional Moon small enough to hold between your fingertips. Tom Harradine of Brisbane, Australia, shows how it is done: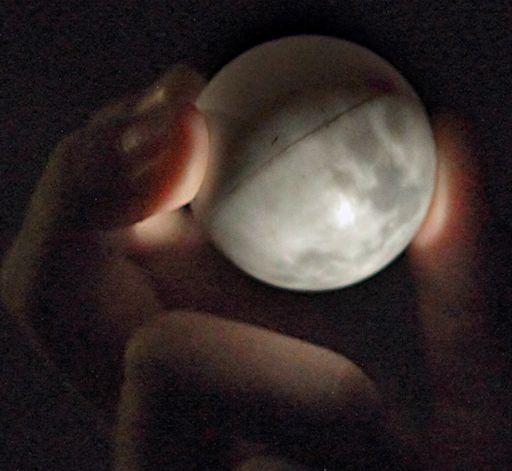 "I pointed my telescope at the Moon and held the ping pong ball in front of the eyepiece," explains Harradine. An image of the Moon iluminated the translucent ball. "By adjusting the focus of the telescope and the distance between the ball and the eyepiece, I was able to create a little 3D Moon."
"This works best for the full or nearly-full Moon," he adds.
Good news for tricksters: There are two full Moons this month. The first comes on July 1-2, the second on July 31st. According to modern folklore, the second full Moon is a calendar month is a Blue Moon. So gather your ping pong balls now for a little Blue Moon at the end of July.
Realtime Space Weather Photo Gallery
THE SUNSET PLANET SHOW CONTINUES: When the sun goes down tonight, step outside and look west. Venus and Jupiter are beautifully close together in the sunset sky. Shahrin Ahmad sends this picture from Sri Damansara, Malaysia, which he took on the evening of July 2nd: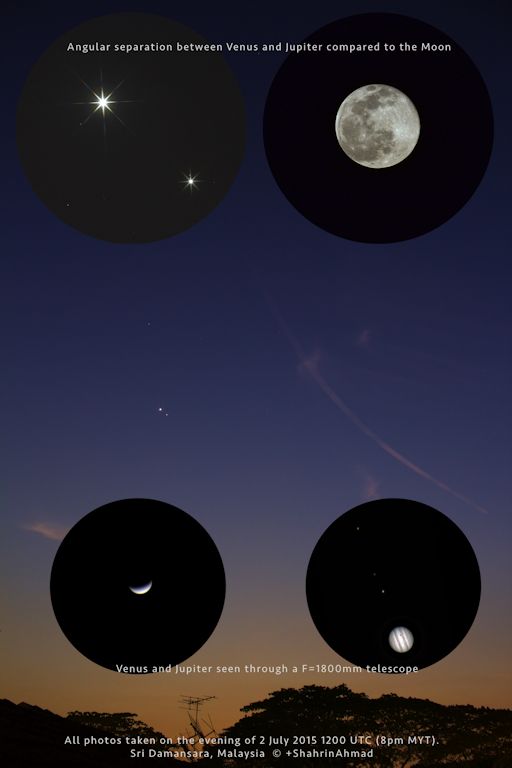 "The upper insets show how Venus and Jupiter are only a little farther apart than the diameter of a full Moon (0.5o)," says Ahmad. "The lower insets show what you will see if you point a telescope at these bright planets: the fat crescent shape of Venus and the moons of Jupiter."
The two planets were at their closest (0.3o) on June 30th, and they are separating now. The breakup of the conjunction is, however, proceeding slowly, so they will remain beautifully close together for many nights to come. Check it out. It is a nice way to end the day.
Realtime Space Weather Photo Gallery
SPACE WEATHER MUTATES MICROBES: Regular readers know that Spaceweather.com and the students of Earth to Sky Calculus have been launching microbes to the edge of space, more than half a dozen times since April. Carried aloft by helium balloons, halobacteria are now frequent fliers to the stratosphere. An early finding of this ongoing experiment is that the microbes are mutated during their trip, probably by exposure to galactic cosmic rays. Would they be mutated even more by a solar storm? That's what the students wanted to find out, so on June 22nd they launched a new batch of microbes during the strongest solar storm of 2015. Here is the payload 108,213 feet above Earth's surface: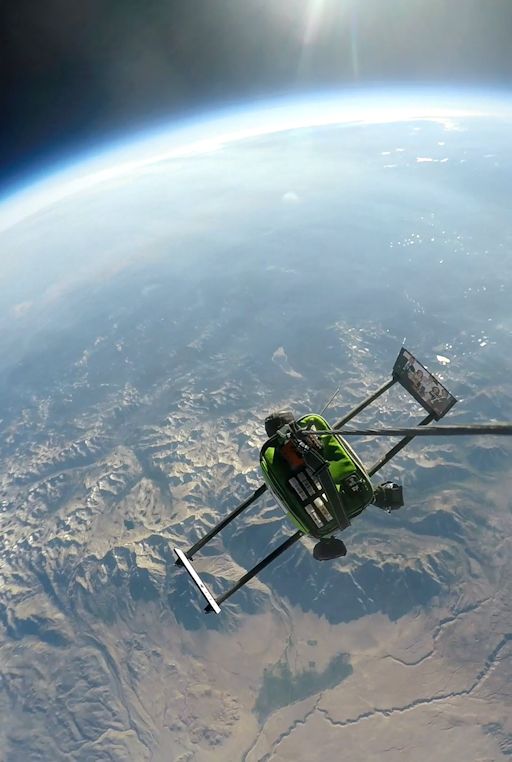 At the time of the flight, a severe G4-class geomagnetic storm was underway. After nightfall, people would see auroras as far south as California and Arizona. In addition, a maelstrom of solar protons were bombarding Earth's magnetic field, producing a moderately-strong S2-class radiation storm.
Will any of this affect the mutation rate of the microbes? Microbiologists Shil and Priya DasSarma are culturing the halobacteria now in their NASA-funded laboratory at the University of Maryland. When their results are available and confirmed, we will share them.
Astrobiologists have a special interest in halobacteria. This extremophile has the ability to shield itself from harmful radiation and to repair damaged DNA. Researchers have speculated that it might be able to survive on the planet Mars. The temperature, air pressure, and radiation environment in Earth's stratosphere is similar to Mars, so a balloon flight is a good way to test halobacteria's "Red Planet readiness."
HEY, THANKS! All of the high-altitude astrobiology research featured on Spaceweather.com is crowd-funded. This particular flight was sponsored by Stuart Bayne, a.k.a. The Fire P.I., an expert investigator of fires and explosions. Here is his logo at the apex of the flight: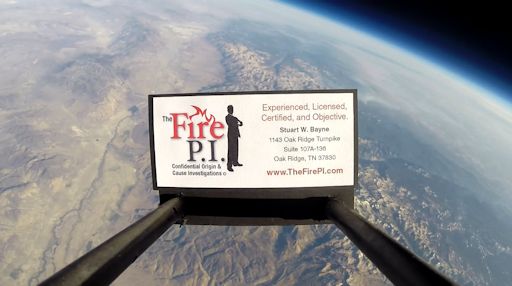 His generous donation of $500 paid for the helium, the balloon, and other supplies required to get this mission off the ground. In return, he will receive a full-length HD video of the flight. Thanks, Stuart!
Readers, would you like to sponsor a research flight and see your favorite photo or business logo at the edge of space? If so, please contact Dr. Tony Phillips to make arrangements.
---
---
---
---
Every night, a network of NASA all-sky cameras scans the skies above the United States for meteoritic fireballs. Automated software maintained by NASA's Meteoroid Environment Office calculates their orbits, velocity, penetration depth in Earth's atmosphere and many other characteristics. Daily results are presented here on Spaceweather.com.
On Jul. 3, 2015, the network reported 55 fireballs.
(55 sporadics)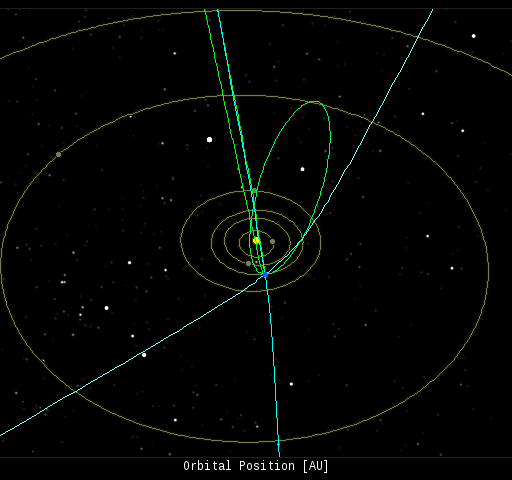 In this diagram of the inner solar system, all of the fireball orbits intersect at a single point--Earth. The orbits are color-coded by velocity, from slow (red) to fast (blue). [Larger image] [movies]
Potentially Hazardous Asteroids (
PHAs
) are space rocks larger than approximately 100m that can come closer to Earth than 0.05 AU. None of the known PHAs is on a collision course with our planet, although astronomers are finding
new ones
all the time.
On July 3, 2015 there were potentially hazardous asteroids.
Notes: LD means "Lunar Distance." 1 LD = 384,401 km, the distance between Earth and the Moon. 1 LD also equals 0.00256 AU. MAG is the visual magnitude of the asteroid on the date of closest approach.
| | |
| --- | --- |
| | The official U.S. government space weather bureau |
| | |
| --- | --- |
| | The first place to look for information about sundogs, pillars, rainbows and related phenomena. |
| | |
| --- | --- |
| | Researchers call it a "Hubble for the sun." SDO is the most advanced solar observatory ever. |
| | |
| --- | --- |
| | 3D views of the sun from NASA's Solar and Terrestrial Relations Observatory |
| | |
| --- | --- |
| | Realtime and archival images of the Sun from SOHO. |
| | |
| --- | --- |
| | from the NOAA Space Environment Center |
| | |
| --- | --- |
| | the underlying science of space weather |
| | |
| --- | --- |
| | Web-based high school science course with free enrollment |