FAKE ASTRONAUT HIT BY ARTIFICIAL SOLAR FLARE: Researchers are blasting a fake astronaut complete with blood cells and simulated human tissue to an artificial solar flare. How the unlucky volunteer emerges from the radiation storm will reveal for the first time how much of a threat severe solar flares pose to astronauts en route to the Moon and Mars: full story.
NIGHT-SHINING CLOUDS: "Last night, we had our first really beautiful display of noctilucent clouds this season. They have really taken off now!" reports John C. McConnell of Maghaberry, Northern Ireland, who took the picture below using a Canon 400D. "The display started just after twilight ended and lasted until 03:00 o'clock in the morning."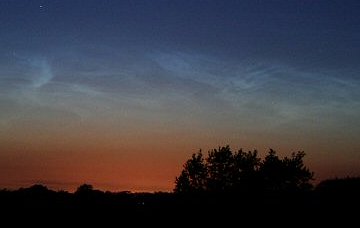 Photo details: Canon 400D, ISO800, 8-10 seconds
Also in Northern Ireland, photographer Martin Mc Kenna witnessed the display. "The clouds had great electric blue colours and intricate structures--bands, whirls and veils all visible at the same time. I can't wait to see the major displays over the next few weeks if this is what we are getting now!"
Indeed, the weeks ahead could be good. There is a well-known correlation between noctilucent clouds (NLCs) and the solar cycle: NLC activity tends to peak during years of solar minimum, possibly because low solar activity allows the upper atmosphere to cool, promoting the growth of ice crystals that make up the clouds. With a century-class solar minimum underway, the stage is set for NLCs.
2009 Noctilucent Photo Gallery
[previous years: 2008, 2007, 2006, 2005, 2004, 2003]
DAYLIGHT STATION SIGHTING: How bright is the International Space Station? It's so bright, you can now see it in broad daylight. Just a few hours ago, Yaron Koler photographed the station framed in blue as it zipped past the Moon in the afternoon skies of Modiin, Israel: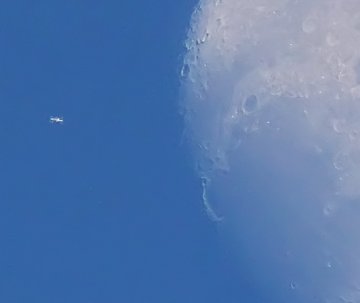 "I used a Canon 500D with a 1.4x Kenko Telephoto Converter Lens," says Koler.
The ISS has been under construction almost continuously for the past 11 years: assembly sequence. The behemoth spacecraft now reflects so much sunlight, it rivals the surface brightness of the Moon in the daytime sky. Sunlight glinting from the station's solar arrays can cause flares as bright as magnitude -8, more than 25 times brighter than Venus!
Imagine how it looks when the sky is actually dark! Check the Simple Satellite Tracker for nightime flybys of your home town.
---
April 2009 Aurora Gallery
[previous Aprils: 2008, 2007, 2006, 2005, 2004, 2003, 2002]
---