| | | |
| --- | --- | --- |
| iPHONE VS ANDROID! Actually, it doesn't matter which phone you carry. Our cool, new app turns both smartphones into field-tested satellite trackers. Learn more. | | |
NASA MISSION TO TOUCH THE SUN: NASA's daring plan to visit the sun took a giant leap forward today with the selection of five key science investigations for the Solar Probe+ spacecraft. Get the full story from Science@NASA.
LIMB EXPLOSION: Today around 1600 UT, a magnetic filament erupted and hurled a massive coronal mass ejection (CME) off the sun's northwestern limb. Click on the image to view a close-up movie of the blast from NASA's Solar Dynamics Observatory: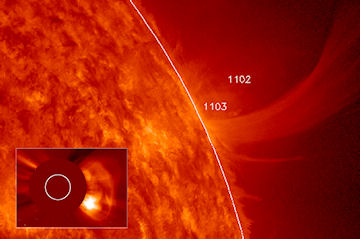 Another movie from the Solar and Heliospheric Observatory (SOHO) shows the CME billowing into space. The cloud is not heading toward Earth, and no geomagnetic storms are expected from this blast.
However, space weather could be in the offing for a different reason. A solar wind stream is heading for Earth and it could spark auroras when it arrives on Sept. 5th or 6th. NOAA forecasters estimate a 50% chance of geomagnetic activity at high latitudes.
VIRTUAL REALITY PARHELIC CIRCLE: A parhelic circle is an unforgettable sight. Thin and pale, it circles the zenith in a majestic arc, always keeping the same distance above the horizon. "I've been looking for a parhelic circle for more than 13 years," says photographer Laurent Laveder of Pluguffan, France. "Yesterday I finally saw one." He rushed for his camera and quickly snapped enough pictures to assemble a complete 360o zenith-to-horizon composite view of the phenomenon. Click on the image below to experience the VR parhelic circle: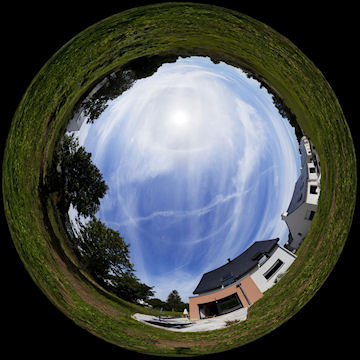 Parhelic circles are caused by sunlight reflecting from the vertical faces of ice crystals--millions of them floating in thin cirrus clouds spread almost evenly across the wide blue sky. As Les Cowley notes in his authoritative web page on the subject, "the parhelic circle appears simple yet more ray paths contribute to it than in any other halo. Some are very intricate."
A striking aspect of the parhelic circle is its dual personality. At the same time it appears both circular and straight. "These two pictures (1, 2) illustrate the effect," says Laveder. More images may be found here.
---
August 2010 Northern Lights Gallery
[previous Augusts: 2009, 2008, 2007, 2006, 2005, 2004, 2003]