| | | |
| --- | --- | --- |
| New from Spaceweather.com: Edge of Space Advertising. Send your product or message to the edge of space for a down-to-Earth fee.  Profits support student space weather research. Email Dr. Tony Phillips for more information. | | |
INCREASING CHANCE OF FLARES: A phalanx of relatively large sunspots is rotating into view over the sun's eastern limb today: image. One of them unleashed a significant flare and radiation storm on Sept. 1st while it was still on the sun's farside. A similar explosion in the days ahead could be Earth-directed. Stay tuned for increasing solar activity. Solar flare alerts: text, voice
WEEKEND ASTEROID FLYBY: This Sunday, a house-sized asteroid named "2014 RC" will fly through the Earth-Moon system almost inside the orbit of geosynchronous satellites. At closest approach, Sept. 7th at 18:18 UTC, the 20-meter-wide space rock will pass just 40,000 km over New Zealand. This diagram from NASA shows the geometry of the encounter:
There is no danger of a collision with Earth.
Asteroid 2014 RC was discovered on the night of August 31 by the Catalina Sky Survey near Tucson, Arizona, and independently detected the next night by the Pan-STARRS 1 telescope, located on the summit of Haleakalā on Maui, Hawaii.  Follow-up observations quickly confirmed the orbit of 2014 RC: it comes from just beyond the orbit of Mars.
The close appproach of this space rock offers researchers an opportunity for point-blank studies of a near-Earth asteroid. Even amateur astronomers will be able to track it. Around the time of closest approach, it will brighten to magnitude +11.5 as it zips through the constellation Pisces. This means it will be invisible to the naked eye but a relatively easy target for backyard telescopes equipped with CCD cameras. [ephemeris] [3D orbit]
According to NASA, "[the orbit of 2014 RC] will bring it back to our planet's neighborhood in the future.  The asteroid's future motion will be closely monitored, but no future threatening Earth encounters have been identified."
Realtime Space Weather Photo Gallery
FILAMENT ERUPTION, EARTH-DIRECTED: On Sept. 2nd, an enormous filament of dark plasma, which had been snaking across the face of the sun for days, became unstable and erupted. NASA's Solar Dynamics Observatory recorded the blast: movie #1, #2. Soon thereafter, a lopsided CME billowed away from sun: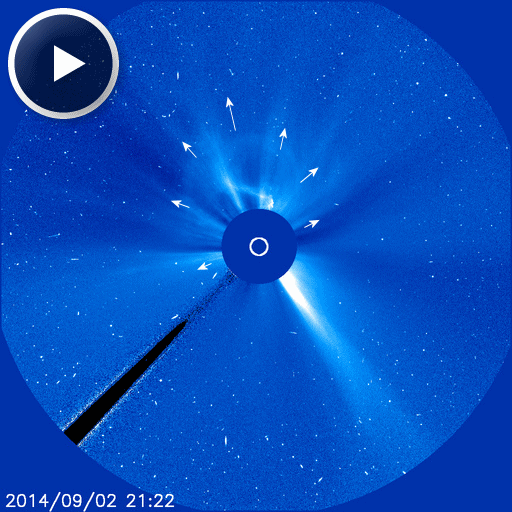 According to NOAA analysts, the CME will deliver a glancing blow to Earth's magnetic field on Sept. 6th. This is not a particularly fast or powerful CME. Nevertheless, the coming impact could spark auroras. The last two minor CMEs that struck Earth in late August triggered beautiful displays of Northern and Southern Lights. The reason: it's aurora season. High-latitude sky watchers should prepare for Sept. 6th. Aurora alerts: text, voice
RED SPRITES AND GREEN GRAVITY WAVES: As northern summer comes to a close, electrical storms are rumbling across the USA. After nightfall, red sprites can be seen dancing across the cloudtops. On Aug. 20th, Tom A. Warner photographed these specimens above New Underwood, South Dakota: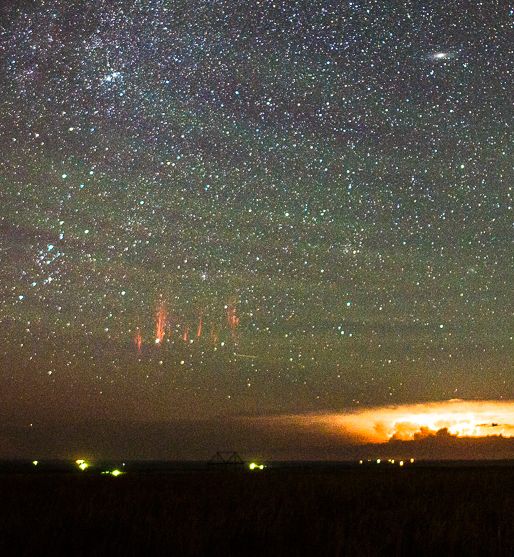 "On the night of Aug 20th, intense storms developed in north central South Dakota," says Warner. "Skies cleared out to the west and offered a chance to capture some sprites from the northern activity."
He saw not only sprites, but also green-glowing gravity waves. The waves are, literally, the ripple effect of a powerful thunderstorm on the mesosphere some 80 km above Earth's surface. From space, these waves look like a giant atmospheric bull's eye. From the ground, they appear to be green ripples in the sky, as shown in Warner's images.
Left to themselves, gravity waves would be invisible to the human eye. We see them, however, because they are colored green by an aurora-like phenomenon called "airglow." Airglow is caused by an assortment of chemical reactions in the upper atmosphere driven mainly by solar ultraviolet radiation. Gravity waves rippling away from the central axis of a thunderstorm cause temperature and density perturbations in the upper atmosphere. Speaking simplistically, those perturbations alter the chemical reaction rates of airglow, leading to more-bright or less-bright bands depending on whether the rates are boosted or diminished, respectively.
Inhabiting the upper reaches of Earth's atmosphere alongside meteors, noctilucent clouds and some auroras, sprites and mesospheric gravity waves are true space weather phenomena. Now is a good time to see them.
---
---
Every night, a network of NASA all-sky cameras scans the skies above the United States for meteoritic fireballs. Automated software maintained by NASA's Meteoroid Environment Office calculates their orbits, velocity, penetration depth in Earth's atmosphere and many other characteristics. Daily results are presented here on Spaceweather.com.
On Sep. 4, 2014, the network reported 38 fireballs.
(37 sporadics, 1 Southern delta Aquariid)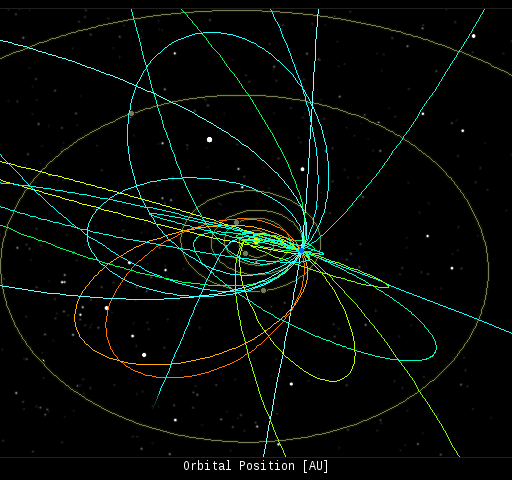 In this diagram of the inner solar system, all of the fireball orbits intersect at a single point--Earth. The orbits are color-coded by velocity, from slow (red) to fast (blue). [Larger image] [movies]
Potentially Hazardous Asteroids (
PHAs
) are space rocks larger than approximately 100m that can come closer to Earth than 0.05 AU. None of the known PHAs is on a collision course with our planet, although astronomers are finding
new ones
all the time.
On September 4, 2014 there were potentially hazardous asteroids.
Notes: LD means "Lunar Distance." 1 LD = 384,401 km, the distance between Earth and the Moon. 1 LD also equals 0.00256 AU. MAG is the visual magnitude of the asteroid on the date of closest approach.
| | |
| --- | --- |
| | The official U.S. government space weather bureau |
| | |
| --- | --- |
| | The first place to look for information about sundogs, pillars, rainbows and related phenomena. |
| | |
| --- | --- |
| | Researchers call it a "Hubble for the sun." SDO is the most advanced solar observatory ever. |
| | |
| --- | --- |
| | 3D views of the sun from NASA's Solar and Terrestrial Relations Observatory |
| | |
| --- | --- |
| | Realtime and archival images of the Sun from SOHO. |
| | |
| --- | --- |
| | from the NOAA Space Environment Center |
| | |
| --- | --- |
| | the underlying science of space weather |