Where's Saturn? Is that a UFO--or the ISS? What's the name of that star? Get the answers from mySKY--a fun new astronomy helper from Meade.

TAURID METEORS: The annual Southern Taurid meteor shower peaks on Nov. 5th. Although Taurid rates are normally low, only about five meteors per hour, those five can be doozies. The shower is a well-known producer of terrestrial fireballs and lunar explosions. Be alert this weekend for Taurids: sky map.

MONDAY MORNING SKY SHOW: On Monday morning, Nov. 5th, space shuttle Discovery is scheduled to undock from the International Space Station while the pair are gliding over many US towns and cities. The two spaceships, appearing as distinct points of light, will cut across a glittering expanse of morning stars and planets and a Venus-Moon conjunction: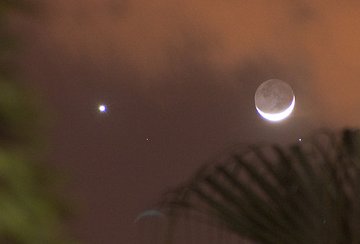 Above: Venus and the Moon photographed by Zhen Jie of Singapore. July 2007.
Add to that some Taurid meteors and an exploding comet and you've got a fantastic Monday morning sky show: full story.
FLYBY ALERTS: Sign up for Spaceweather PHONE to receive email and telephone alerts when the ISS is about to fly over your home town.
EXPLODING COMET: Sometimes a picture is worth a thousand words: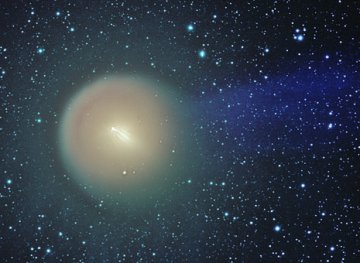 This is a composite image of exploding Comet 17P/Holmes. German astrophotographer Sebastian Voltmer combined various exposures taken through his 4.1-inch refracting telescope and processed the composite to highlight the comet's bright golden core (with jets and streamers), its gossamer green halo and an emerging faint blue tail. It's one of the strangest and most beautiful photos of a comet ... ever.
If that doesn't make you want to see Comet Holmes with your own eyes, perhaps this will: "The comet is growing fantastically," reports Thorsten Boeckel of Fuerstenfeldbruck, Bavaria, who has been monitoring the expansion: image. "By Sunday," he estimates, "it will be half as wide as a full Moon."
Comet Holmes is easy to find. After sunset, look north for an expanding fuzzball in the constellation Perseus: sky map. Point your telescope and--voila!--an exploding comet.
Comet 17P/Holmes Photo Gallery
[Interactive World Map of Comet Photos]
[sky map] [ephemeris] [3D orbit] [Night Sky Cameras]