| | | |
| --- | --- | --- |
| Metallic photos of the sun by renowned photographer Greg Piepol bring together the best of art and science. Buy one or a whole set. They make a stellar gift. | | |
RECORD-SETTING ASTEROID: Tiny asteroid 2011 CQ1 buzzed Earth on Feb. 4th even closer than we thought. According to JPL's Near Earth Object Program office, the meter-wide space rock was only 5480 km (0.85 Earth radii) over the Pacific Ocean at closest approach. That makes it the nearest non-impacting object in their catalog. The encounter was so close, Earth's gravity altered the course of the asteroid by a whopping 60 degrees. [full story] [amateur images]
SUBSIDING STORM: A solar wind stream hit Earth's magnetic field during the late hours of Feb. 4th, sparking a G2-class (Kp=6) geomagnetic storm. In Gimsøy, Norway, the whole world seemed to turn green when the solar wind hit: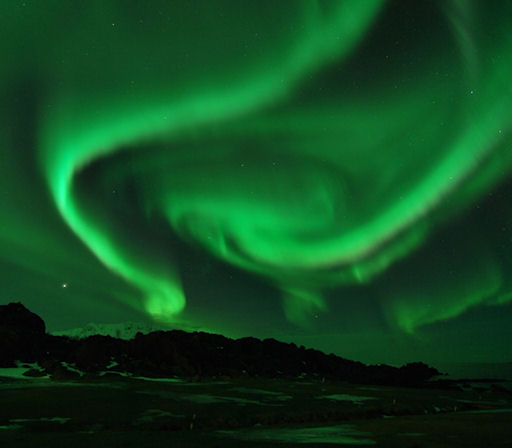 "The Northern Lights danced for us tonight showing all its magic and strength," says photographer Cristina Albuerne. "I'm living in a very special place."
The storm is subsiding now, but it could rev up again in the hours ahead. High-latitude sky watchers should remain alert for auroras as the solar wind continues to blow.
NEW: February 2011 Aurora Photo Gallery
[previous Februaries: 2010, 2009, 2008, 2007, 2006, 2004, 2003, 2002]
more images: from Olavur of the Faroe Islands between Norway and Iceland; from Kasper Solberg of Thorshavn in the Faroe Islands; from Chad Blakley of Abisko National Park, Sweden; from Hans-Dieter Fleger of Atraa, Telemark, Norway; from Beate Kiil Karlsen of Norway; from John Gray on the Isle of Lewis, Outer Hebrides UK; from Trym Norman Sannes of Jevnaker, Norway.
SOLAR SAIL FLARES: NASA's new solar sail, NanoSail-D, is circling Earth and attracting the attention of sky watchers--especially when it flares. Sunlight glinting off the sail's reflective fabric can rival the brightest stars, making a sudden and luminous streak across the night sky. Here it is over Rautalampi, Finland, on Jan. 30th: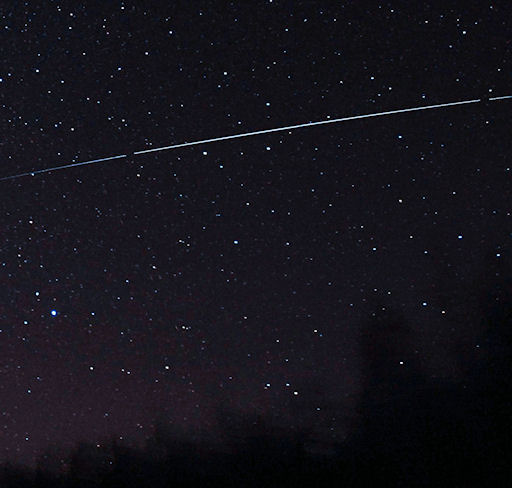 Photo details: Nikon D70s, 18 mm/f/3.5, ISO 1600, 30 sec exposures
"At its peak, the flare was magnitude +3.5, easily seen with the naked eye," says photographer Vesa Vauhkonen. "I was able to photograph the event using an ordinary digital camera (a Nikon D70s)."
On the same night, NanoSail-D flared even more brightly over Helsinki, Finland. A meteor camera operated by Esko Lyytinen caught the sail flashing almost three times brighter than a 1st magnitude star: image.
Future flares could dwarf these. NanoSail-D is skimming the top of Earth's atmosphere and slowly descending as it circles the planet. As the spacecraft gets closer to Earth and aerodynamic forces flatten the fabric into an ever-better reflector, flares are likely to intensify, theoretically exceeding the brightness of Venus as much as 100-fold (5 magnitudes). Photograph one of those and you just might win $500.
more images: from Enzo De Bernardini of Buenos Aires, Argentina; from Arto Oksanen of Jyväskylä, Finland; from Mika Järvinen of Finland
---
January 2011 Aurora Photo Gallery
[previous Januaries: 2010, 2009, 2008, 2007, 2005, 2004]