SHUTTLE LAUNCH: NASA has announced a tentative launch date for space shuttle Discovery: March 11th at 9:20 pm EDT. The spectacular night launch will mark the beginning of a two week mission to the International Space Station where astronauts will add a new pair of solar wings to power the growing spaceport. The timing of launch, if it goes off as planned, is favorable for North American sky watchers who will be able to see the ISS and Discovery flying in tandem through the night sky. Stay tuned for sightings.
GENTLE SOLAR WIND: Last night, March 4th, a minor solar wind stream buffeted Earth's magnetic field. It was just a gentle gust, but sometimes a gentle gust is all it takes. The Arctic Circle lit up with vivid auroras: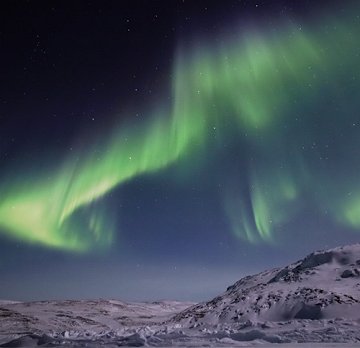 Photo details: Canon EOS 30D, 5 sec, f 3.5, ISO 800, 10mm
"The Northern Lights were very active," says photographer Sylvain Serre of Salluit, a Inuit village in northern Canada. He took the picture above using his Canon EOS 30D.
NASA's STEREO-B spacecraft has spotted a coronal hole over the sun's eastern limb. Soon, that hole will turn to face Earth and it will send a stronger solar wind stream in our direction. Expected impact: March 12th. Arctic sky watchers, mark your calenders for some not-so-gentle auroras.
UPDATED: March 2009 Aurora Gallery
[previous Marches: 2008, 2007, 2006, 2005, 2004, 2003, 2002]
RUSSIAN COMSAT CLOUD: "On Saturday evening, February 28th, I was observing at the Astronomical Society of Victoria dark-sky site near Heathcote, Australia," reports Michael Mattiazzo. "At 21:45 AEDT (10:45 UT) I happened to glance westwards and noticed a mysterious V-shaped glow just below Alpha Ceti. During the 5 minutes I spent aligning the telescope and setting up my camera on piggyback, it expanded considerably." He combined four images from his Canon 300D to create this 6-minute animation:
"[The object that emitted the cloud] can be seen in my animation heading in an easterly direction toward the right side of the photo. Satellite expert Tony Beresford has identified it as a new Russian military comsat launched from Baykonur on Feb 28th."
The name of the comsat is Raduga-1; it is an improved version of the Soviet-era old Gran' (Raduga) satellite first launched in 1975. Two burns were required to place Raduga-1 into geosynchronous orbit and purely by chance Mattiazzo saw one of them. It just goes to show ... you never know what you might see if you keep looking up.
---
UPDATED: Comet Lulin Photo Gallery
[Comet Hunter Telescope] [Sky maps: March 5, 6, 7]
---