| | | |
| --- | --- | --- |
| KILLER PERSEID APP: You can now experience the Perseid meteor shower on your iPhone. It's cloud-proof! Learn more and give it a try. | | |
FULL MOON AND JUPITER: Tonight, when the sun sets, go outside and look southeast. The full Moon is having a close encounter with Jupiter. The two are so bright, you won't even need a sky map to find them. Moon shots: from Anthony Ayiomamitis of Athens, Greece.
POSSIBLE PERSEID OUTBURST: This year's Perseid meteor shower could be even better than usual. "A filament of comet dust has drifted across Earth's path and when Earth passes through it, sometime between 0800 and 0900 UT (1 - 2 am PDT) on August 12th, the Perseid meteor rate could surge to twice its normal value," says Bill Cooke of NASA's Meteoroid Environment Office. The following profile is based on the debris stream models of veteran forecasters Jeremie Vaubaillon and Mikhail Maslov: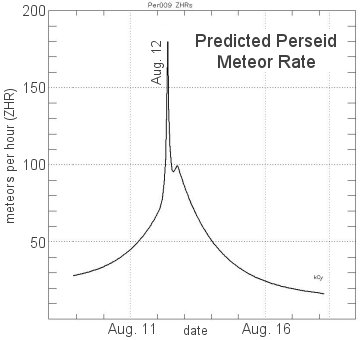 The filament was shed by Perseid parent comet Swift-Tuttle in the year 1610, and this is one of Earth's first encounters with it. "In addition," notes Cooke, "the main Perseid debris stream, which we run into every year, may be denser than normal due to a gravitational enhancement by Saturn. The total combination of these effects could result in as many as 200 meteors per hour (ZHR)."
Bright moonlight will overwhelm the outburst's fainter Perseids, but even a fraction of 200 is a good show. Science@NASA's "The Perseids are Coming" offers observing tips and sky maps.
SWIRLING DEBRIS ON JUPITER: The "Wesley impact cloud" on Jupiter continues to expand and evolve. On August 1st and 2nd, worldwide observers noted that it had transformed from a concentrated, cindery-black spot to an Earth-sized paling swirl. South is up in this just-updated Aug. 3rd image from the cloud's discoverer, Anthony Wesley of Murrumbateman, Australia: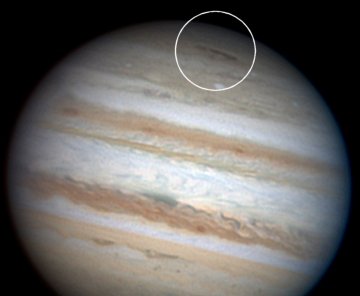 "Polar winds seem to be carrying the main body of the cloud westward (to the right in the photo)," says Wesley. "Also, a small stream of dark material is being pulled down and in the opposite direction--perhaps around a cyclone or some other localized weather feature?"
Researchers are scrambling to study the cloud before it disperses. Light reflected from the debris may hold clues to the nature of the mystery-impactor. "If the cloud's spectra contain signs of water, that would suggest an icy comet. Otherwise, it's probably a rocky or metallic asteroid," says JPL planetary scientist Glenn Orton. Several teams of professional astronomers are working to obtain the data.
Meanwhile, amateur astronomers can monitor the cloud as it shifts and swirls near Jupiter's System II longitude 210°. For the predicted times when it will cross the planet's central meridian, add 2 hours and 6 minutes to Sky and Telescope's predicted transit times for Jupiter's Great Red Spot. [sky map]
more images: from Raffaello Lena of Rome, Italy; from Glenn Jolly of Gilbert, Arizona, USA; from Wah! of Hong Kong; from William Rison of Newburg, Maryland; from Joel Warren of Amarillo, Texas; from David Kolb of Lawrence, Kansas; from Alphajuno of League City, Texas; from Mariano Ribas of Buenos Aires, Argentina; from Giancarlo Ubaldo Nappi of Belo Horizonte, Minas Gerais, Brazil
---
2009 Noctilucent Photo Gallery
[previous years: 2008, 2007, 2006, 2005, 2004, 2003]
---
July 2009 Aurora Gallery
[previous Julys: 2008, 2007, 2006, 2005, 2004, 2003]
---