| | | |
| --- | --- | --- |
| Metallic photos of the sun by renowned photographer Greg Piepol bring together the best of art and science. Buy one or a whole set. They make a stellar gift. | | |
RIPPING FIREBALL: "There was a rippingly fine fireball over north central New Mexico on April 5th at 01:50 am MDT," reports amateur radio astronomer Thomas Ashcraft. "Signals from distant radio stations bounced off the meteor's trail as it shredded the ionosphere. Here is a movie I made with the radio echo in stereo at two frequencies. The full radio reflection lasted more than two minutes." [NASA video: Spring is Fireball Season]
more fireballs: from Marsha Adams of Sedona, Arizona
STEADY SKIES OVER JAPAN: Only a few hours before a new and powerful earthquake shook Japan on April 7th, amateur astronomer Mitsuo Muraoka of Hatoyama, Saitama, photographed a conjunction of the crescent Moon and the Pleiades: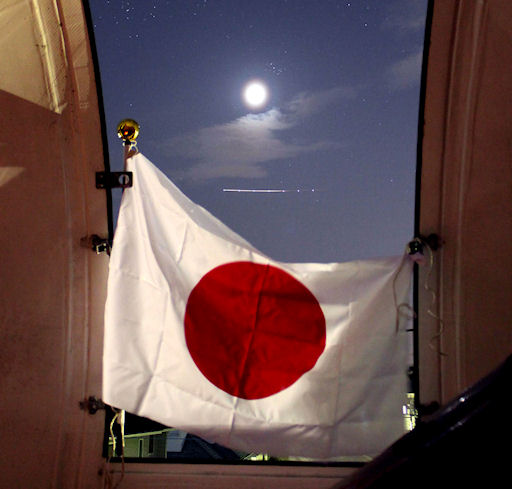 "It was a beautiful sight," says Muraoka. "Only a little while later, however, [I might have had trouble steadying my camera]."
According to the Japan Meteorological Agency, a 7.4 magnitude aftershock of the March 11th super-quake struck offshore at 11:30 pm Japan time. Remarkably, no serious damage to the island nation has been reported, and a significant tsunami is not expected. Astronomers there can return their attention to the sky, which remained steady throughout.
more moonshots: from Doug Zubenel at the St. Philippine Duchesne Memorial Park, Linn County, Kansas; from Rafael Schmall of Kaposfo, Somogy, Hungary; from Alfredo Garcia Jr of Lomita, CA; from Monika Landy-Gyebnar of Veszprem, Hungary
TORMENTED FILAMENT: A filament of magnetism and hot plasma is twisting and turning around the sun's southeastern limb today. Click on the image to launch a 2-day movie from NASA's Solar Dynamics Observatory. Warning: The mpeg file contains 49 megabytes of data, but it is worth the wait to download: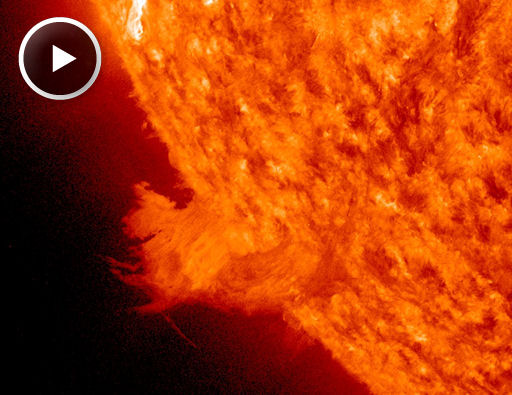 The filament's magnetic backbone stretches more than 300,000 km from end to end. As suggested by events in the movie, this vast tormented structure is unstable and could erupt at any moment. Any such blast would probably not be Earth-directed because of the filament's location on the limb. Stay tuned.
more images: from Karzaman Ahmad of Langkawi National Observatory, Malaysia; from Philippe Roucheux of Joigny, Bourgogne, France; from Theo Ramakers of Social Circle, Georgia; from Z. Parsons-West and J. Stetson of South Portland, Maine; from Howard Eskildsen of Ocala, Florida; from Oscar Martín Mesonero of Madrid, Spain
---
April 2011 Aurora Gallery
[previous Aprils: 2010, 2009, 2008, 2007, 2006, 2005, 2004, 2003, 2002]