| | | |
| --- | --- | --- |
| Solar minimum is here - but even now strangely beautiful auroras are dancing around the poles. Deep inside the Arctic Circle, the expert guides of Aurora Holidays in Utsjoki, Finland, can help you chase them. Book now! | | |
SOLAR MINIMUM CONDITIONS ARE IN EFFECT: The sun has been without spots for 19 consecutive days--almost 3 full weeks. Many people think Solar Minimum is uninteresting. Not so. This phase of the solar cycle brings extra cosmic rays, long-lasting holes in the sun's atmosphere, and a possible surplus of noctilucent clouds. Aurora Alerts: SMS text, email.
WHAT'S HAPPENING TO THE GREAT RED SPOT? The biggest storm in the solar system is shrinking. Since mid-May, Jupiter's Great Red Spot has contracted a startling 3000 km, reducing the size of the anti-cyclone by more than 20%. This 10-day movie created by Marco Vedovato of the JUPOS Project shows what's happening: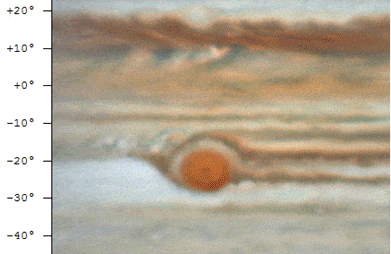 Enormous rivulets of red gas are streaming away from the storm as it spins. "This is something we've never seen before," says Vedovato, who assembled the animation by stitching together images from nearly a dozen amateur astronomers.
Experienced observers say the storm is "getting a new shape every day" in a "dramatic metamorphasis" as the Red Spot "appears to be unravelling."
Consider it a case of perfect timing. Jupiter is about to make its annual closest approach to Earth--"only" 641 million km away on June 12th. Proximity makes the planet big and bright, shining almost four times brighter than Sirius, the brightest star in the sky. Astrophotographers are therefore getting a fantastic view of the GRS.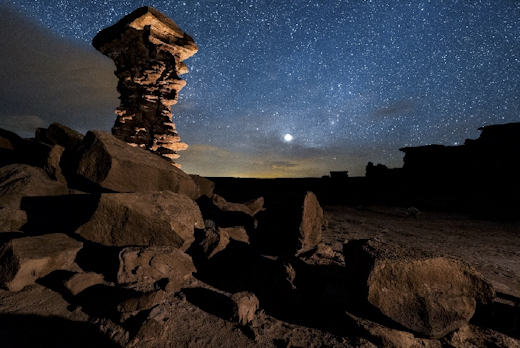 Jupiter rising over Bluff, Utah. Photo credit: Paul Martini
"The JUPOS Project manages the largest Jupiter database in the world," says Vedovato. "So far we have collected more than 1 million measurements, including old images and drawings from the 18th century, allowing us to plot very precise trends in the Great Red Spot." This plot, for instance, shows the sudden decrease in the storm's diameter since early May.
Observing tips: Finding Jupiter is easy. Because the giant planet is at opposition, it rises in the east at sunset and stays up all night long. The best time to look is around local midnight when Jupiter is hanging relatively high in the southern sky. Even small telescopes will reveal the planet's oblate disk and stormy cloud belts. And Jupiter's 4 largest moons can be seen using no more than handheld binoculars: sky map.
Realtime Space Weather Photo Gallery
Free: Spaceweather.com Newsletter
GIFTS FROM THE EDGE OF SPACE: What do you get the dad who has everything? Consider a gift from the edge of space! Every item in the Earth to Sky Store has flown to the top of Earth's atmosphere onboard a cosmic ray balloon, and they're all 10% off between now and Father's Day (June 16th).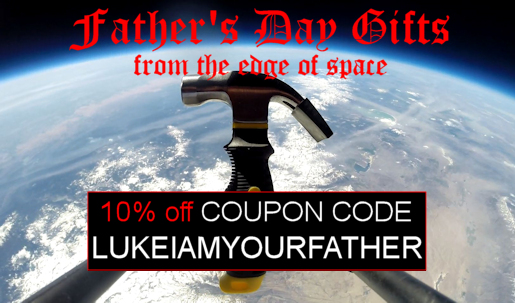 Each gift comes with a unique greeting card showing the item in flight and telling the story of its journey to the stratosphere and back again. Cosmic ray data collected during the flights form a unique record of radiation in Earth's atmosphere--100% gathered and analyzed by young scientists. All sales support the students and their high-altitude ballooning program. Thanks!
Far Out Gifts: Earth to Sky Store
All sales support hands-on STEM education
STARLINK VS. ASTRONOMY: A long time ago in a galaxy far, far away.... a star exploded. Light from the supernova reached Earth in May 2019 following a journey of 110 million years across the cosmos. Astronomers saw it--a tiny bloom of light on the edge of lenticular galaxy NGC5353--and immediately began to monitor its light curve. Then this happened: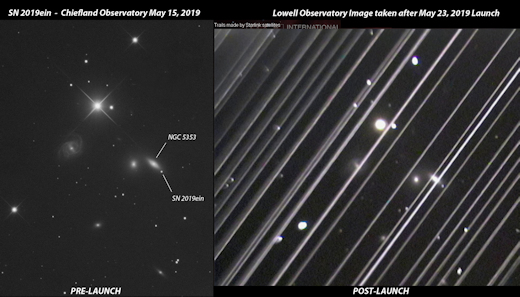 Bill Williams of the Chiefland Astronomy Village in Florida created the composite image. "It shows my photo of the supernova on May 15th (left), one week before the launch of SpaceX's Starlink satellites, alongside a similar photo taken at the Lowell Observatory after the launch (right)," explains Williams. The difference is, Starlink ruined the Lowell Observatory image.
SN2019ein is a Type 1a supernova. It happened when matter from one star fell onto another--a nearby white dwarf, pushing the mass of the dwarf over the threshold for a supernova explosion. This special kind of supernova is a "standard candle," which cosmologists have used to show that the expansion of the universe is accelerating. Monitoring the light curves of Type 1a supernova literally helps us understand the fate of the cosmos.
"To me, as a dedicated observer of the night sky for over 50 years and an avid underwater photographer, satellite megaconstellations such as Starlink are the equivalent of polluting our oceans with plastics," notes Williams. "I hope we take every measure possible to mitigate the effects of satellite light pollution of our night skies."
The International Astronomical Union seems to agree. Read their statement here.
---
Realtime Noctilucent Cloud Photo Gallery
Free: Spaceweather.com Newsletter
Every night, a network of
NASA all-sky cameras
scans the skies above the United States for meteoritic fireballs. Automated software maintained by NASA's Meteoroid Environment Office calculates their orbits, velocity, penetration depth in Earth's atmosphere and many other characteristics. Daily results are presented here on Spaceweather.com.
On Jun. 7, 2019, the network reported 6 fireballs.
(6 sporadics)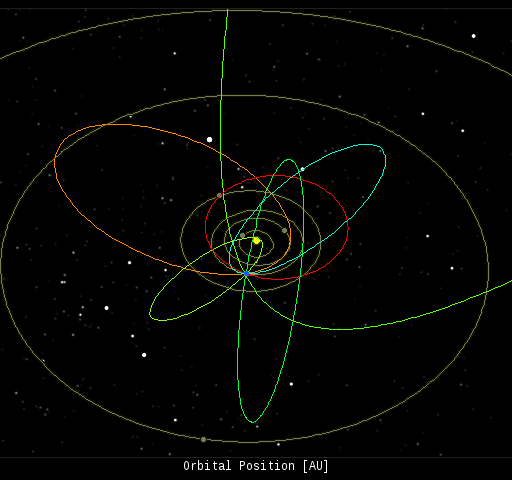 In this diagram of the inner solar system, all of the fireball orbits intersect at a single point--Earth. The orbits are color-coded by velocity, from slow (red) to fast (blue). [Larger image] [movies]
Potentially Hazardous Asteroids (
PHAs
) are space rocks larger than approximately 100m that can come closer to Earth than 0.05 AU. None of the known PHAs is on a collision course with our planet, although astronomers are finding
new ones
all the time.
On June 7, 2019 there were
1983
potentially hazardous asteroids.

Recent & Upcoming Earth-asteroid encounters:
Asteroid

Date(UT)

Miss Distance

Velocity (km/s)

Diameter (m)

2019 KY3

2019-Jun-02

2.3 LD

16.3

17

2019 KH1

2019-Jun-02

10.6 LD

18.5

29

2010 WH1

2019-Jun-02

18 LD

7.8

22

2019 LC

2019-Jun-02

19.2 LD

6.9

25

2019 LH1

2019-Jun-02

11.6 LD

16.6

35

2019 LA2

2019-Jun-02

1.2 LD

14.3

17

2019 LQ1

2019-Jun-03

5.5 LD

8

22

2012 KZ41

2019-Jun-03

3.8 LD

12

34

2019 KE2

2019-Jun-04

19.9 LD

9.3

48

2019 KY

2019-Jun-04

5.5 LD

6.2

19

2019 KS

2019-Jun-04

12.3 LD

17.6

44

2019 KA4

2019-Jun-05

8.4 LD

7.2

23

2019 KA3

2019-Jun-06

4 LD

3.9

9

2019 JX2

2019-Jun-06

13.8 LD

7

41

2014 MF18

2019-Jun-06

8.8 LD

3

22

2019 LA

2019-Jun-07

13.9 LD

22.3

68

2019 KZ3

2019-Jun-07

5.7 LD

10

52

2019 KG3

2019-Jun-11

16.4 LD

6.8

23

2019 LB

2019-Jun-12

9.1 LD

6

33

2019 LL1

2019-Jun-14

5.6 LD

8.8

16

2013 YA14

2019-Jun-14

14.7 LD

11.1

65

2019 KJ

2019-Jun-14

12.6 LD

8.1

68

2019 LU

2019-Jun-16

4.1 LD

8

35

2019 LR

2019-Jun-16

18.3 LD

15

34

2019 LC1

2019-Jun-19

19.2 LD

9.9

26

2019 LB2

2019-Jun-20

6.5 LD

3.4

15

2019 LM1

2019-Jun-23

9.8 LD

8.7

26

441987

2019-Jun-24

7.7 LD

12.6

178

2008 KV2

2019-Jun-27

17.8 LD

11.4

195

2016 NN15

2019-Jun-28

9.6 LD

8.4

16

2019 LV1

2019-Jun-29

5.2 LD

6.2

24

2015 XC352

2019-Jul-01

11.9 LD

4.1

26

2016 OF

2019-Jul-07

12.8 LD

8.5

85

2016 NO56

2019-Jul-07

3.4 LD

12.2

26

2019 KD3

2019-Jul-12

15.5 LD

8

89

2016 NJ33

2019-Jul-12

15 LD

4.5

32

2015 HM10

2019-Jul-24

12.2 LD

9.5

68

2010 PK9

2019-Jul-26

8.2 LD

16.5

155

Notes: LD means "Lunar Distance." 1 LD = 384,401 km, the distance between Earth and the Moon. 1 LD also equals 0.00256 AU. MAG is the visual magnitude of the asteroid on the date of closest approach.

| | |
| --- | --- |
| | Cosmic Rays in the Atmosphere |

SOMETHING NEW! We have developed a new predictive model of aviation radiation. It's called E-RAD--short for Empirical RADiation model. We are constantly flying radiation sensors onboard airplanes over the US and and around the world, so far collecting more than 22,000 gps-tagged radiation measurements. Using this unique dataset, we can predict the dosage on any flight over the USA with an error no worse than 15%.

E-RAD lets us do something new: Every day we monitor approximately 1400 flights criss-crossing the 10 busiest routes in the continental USA. Typically, this includes more than 80,000 passengers per day. E-RAD calculates the radiation exposure for every single flight.

The Hot Flights Table is a daily summary of these calculations. It shows the 5 charter flights with the highest dose rates; the 5 commercial flights with the highest dose rates; 5 commercial flights with near-average dose rates; and the 5 commercial flights with the lowest dose rates. Passengers typically experience dose rates that are 20 to 70 times higher than natural radiation at sea level.

To measure radiation on airplanes, we use the same sensors we fly to the stratosphere onboard Earth to Sky Calculus cosmic ray balloons: neutron bubble chambers and X-ray/gamma-ray Geiger tubes sensitive to energies between 10 keV and 20 MeV. These energies span the range of medical X-ray machines and airport security scanners.

Column definitions: (1) The flight number; (2) The maximum dose rate during the flight, expressed in units of natural radiation at sea level; (3) The maximum altitude of the plane in feet above sea level; (4) Departure city; (5) Arrival city; (6) Duration of the flight.

SPACE WEATHER BALLOON DATA: Approximately once a week, Spaceweather.com and the students of Earth to Sky Calculus fly space weather balloons to the stratosphere over California. These balloons are equipped with radiation sensors that detect cosmic rays, a surprisingly "down to Earth" form of space weather. Cosmic rays can seed clouds, trigger lightning, and penetrate commercial airplanes. Furthermore, there are studies ( #1, #2, #3, #4) linking cosmic rays with cardiac arrhythmias and sudden cardiac death in the general population. Our latest measurements show that cosmic rays are intensifying, with an increase of more than 18% since 2015:

The data points in the graph above correspond to the peak of the Reneger-Pfotzer maximum, which lies about 67,000 feet above central California. When cosmic rays crash into Earth's atmosphere, they produce a spray of secondary particles that is most intense at the entrance to the stratosphere. Physicists Eric Reneger and Georg Pfotzer discovered the maximum using balloons in the 1930s and it is what we are measuring today.

En route to the stratosphere, our sensors also pass through aviation altitudes:

In this plot, dose rates are expessed as multiples of sea level. For instance, we see that boarding a plane that flies at 25,000 feet exposes passengers to dose rates ~10x higher than sea level. At 40,000 feet, the multiplier is closer to 50x.

The radiation sensors onboard our helium balloons detect X-rays and gamma-rays in the energy range 10 keV to 20 MeV. These energies span the range of medical X-ray machines and airport security scanners.

Why are cosmic rays intensifying? The main reason is the sun. Solar storm clouds such as coronal mass ejections (CMEs) sweep aside cosmic rays when they pass by Earth. During Solar Maximum, CMEs are abundant and cosmic rays are held at bay. Now, however, the solar cycle is swinging toward Solar Minimum, allowing cosmic rays to return. Another reason could be the weakening of Earth's magnetic field, which helps protect us from deep-space radiation.

| | |
| --- | --- |
| | The official U.S. government space weather bureau |

| | |
| --- | --- |
| | The first place to look for information about sundogs, pillars, rainbows and related phenomena. |

| | |
| --- | --- |
| | Researchers call it a "Hubble for the sun." SDO is the most advanced solar observatory ever. |

| | |
| --- | --- |
| | 3D views of the sun from NASA's Solar and Terrestrial Relations Observatory |

| | |
| --- | --- |
| | Realtime and archival images of the Sun from SOHO. |

| | |
| --- | --- |
| | from the NOAA Space Environment Center |

| | |
| --- | --- |
| | fun to read, but should be taken with a grain of salt! Forecasts looking ahead more than a few days are often wrong. |

| | |
| --- | --- |
| | from the NOAA Space Environment Center |

| | |
| --- | --- |
| | the underlying science of space weather |

To find reviews of new online casino sites in the UK try The Casino DB where there are hundreds of online casino reviews complete with bonuses and ratings.

Looking for a new online casino? Try Casimpo the new site dedicated to making online casino simple and easy for all.

| | |
| --- | --- |
| | These links help Spaceweather.com stay online. Thank you to our supporters! |