Did you sleep through the auroras of Dec. 14th? Next time get a wake-up call: Spaceweather PHONE.
BRIGHT COMET: "What a change!" says Doug Zubenel of Topeka, Kansas. "I just got in from another session with awesome Comet McNaught. It has brightened noticeably in the last 24 hours. I and three other people saw it easily with the naked eye just after sunset, and the view through my 6-inch binocular telescope was breathtaking."
Comet McNaught is so bright, it shines right through the evening twilight: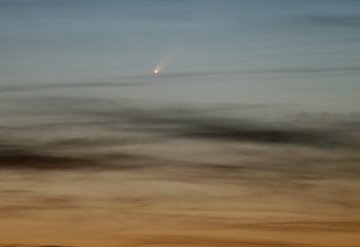 Photo details: Canon 20D, 100mm lens, ISO100, 1 second exposure.
"It was clear to see with the naked eye," says photographer Thorsten Boeckel of Bavaria, Germany.
Because the comet is so close to the sun, it can only be seen for a brief time around sunset and sunrise. Step outside at the end of the day and look west into the twilight. The comet lies just to the right of Venus. In the morning, it hangs low in the east, emerging just ahead of the rising sun. Scan the horizon with binoculars to find it beaming through the glow of dawn.
Comet McNaught Photo Gallery
[finder charts: morning and evening] [ephemeris] [3D orbit]
STRANGE PILLAR: Last night (Jan. 7th) in the Netherlands, a strange and beautiful pillar of light appeared among the clouds. "It was right above a Dow chemical plant in Terneuzen," reports Rijk-Jan Koppejan of the Philippus Lansbergen Observatory. A flame of burning gas at the plant beamed intense light into the sky, producing a sight akin to a sun pillar--no sun required: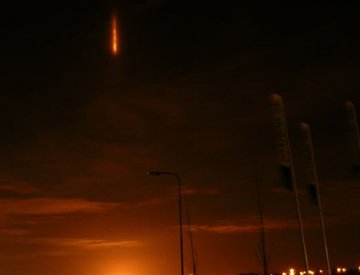 Atmospheric optics expert Les Cowley explains: "Like sun pillars, these 'candles in the sky' are formed by reflections from millions of plate-shaped ice crystals in high clouds. Sometimes, reflections of refinery and oil-rig flares are seen tens of miles away." This one was photographed as far away as Belgium.
more images: from Bart De Bruyn of Westdorpe, The Netherlands; from Marc Persan in Gent, Belgium; from Lode Verhelst of Ursel, Belgium.