MISSION MADNESS: Step aside, Neil Armstrong. Move over, Hubble. NASA's 2009 Mission Madness tournament is done and the winner is ... the Super Pressure Balloon. Dubbed "NASA's Greatest Mission" by tournament voters, the balloon is wider than one and a half football fields and is able to carry experiments weighing as much as 1000 lbs to the edge of space. Researchers can use it to monitor cosmic rays, map radio echoes of the Big Bang, search for planets around distant stars, and much more. Very cool! But greater than a Moon landing? Mission Madness, indeed.
AURORA WATCH: High-latitude sky watchers should be alert for auroras on April 9th and 10th. That's when a solar wind stream is due to hit Earth, possibly sparking magnetic storms around the Arctic Circle. The Moon will be full on April 9th, but moonlight is not necessarily a problem: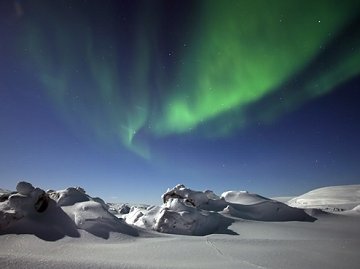 Sylvain Serre took the picture on April 7th from the snowy wilds of Nunavik, Canada. "We had a clear sky and a beautiful Moon," he says. The moonlit landscape was a perfect complement to the auroras overhead.
NOAA forecasters estimate a 35% chance of geomagnetic activity in the next 24 hours. Stay tuned for Northern Lights.
UPDATED: April 2009 Aurora Gallery
[previous Aprils: 2008, 2007, 2006, 2005, 2004, 2003, 2002]
SULFUR DIOXIDE LOOP: (Updated April 8th) A loop of sulfur dioxide gas more than 600 miles in diameter is swirling off the coast of California. It came from Alaska where Mt. Redoubt unleashed its biggest eruption yet on April 4th. Click on the image to launch a 5-day animation of the volcano's SO2 emissions spanning April 3rd through 7th: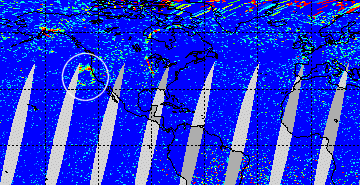 Data source: The GOME-2 sensor onboard Europe's MetOp-A satellite
The April 4th eruption produced a long plume of stratospheric SO2 which has since split. Half is drifting across the northern reaches of Canada and the Great Lakes. The other half is having a close encounter with the Pacific coast of North America. If you live in these areas, be alert for rare colors and rays in the evening sky. Sulfur dioxide and associated aerosols can produce fantastic sunsets.
more images: from Ken Scott on the shore of Lake Michigan south of Leland, Michigan; from Tom Woods of Honesdale, Pennsylvania
---