| | | |
| --- | --- | --- |
| SPACESHIP SIGHTINGS: Would you like a call when the space station is about to fly over your backyard? Sign up for Spaceweather PHONE. | | |
GEMINID METEOR SHOWER: Mark your calendar. The Geminid meteor shower peaks on Dec. 13th and 14th when Earth passes through a stream of debris from extinct comet 3200 Phaethon. The Geminids have been intensifying in recent years, and 2009 could be the best year yet. Forecasters expect 140+ meteors per hour under the dark skies of a new Moon. [sky map]
ERUPTIVE PROMINENCE: December began with an enormous magnetic filament wrapped around the sun's south pole. On Friday, Dec. 4th, it erupted. NASA's twin STEREO probes, stationed on nearly opposite sides of the sun, photographed the blast from two points of view. Click on the image to set the scene in motion:
Astronomers have been monitoring eruptive prominences like this one for decades, but only now are they getting the 3D view provided by STEREO. "[In the past], we really had no idea in what plane the center of mass of the eruptive material was moving," says Joe Gurman of the Solar Physics Lab at NASA's Goddard Space Flight Center. But look again at the STEREO movie, particularly at the right-hand image. "The material is heading from high latitudes toward the solar equator," he notes. The dynamics of these massive events are becoming clear at last.
More eruptions may be found in the STEREO gallery.
BEAM ME UP, SCOTTY: It was snowing lightly in Harney County, Oregon, yesterday when a brilliant column of light came lancing out of the clouds. "It was like Beam me up, Scotty!" says Raven, who witnessed the event. "The light came through a hole in the clouds and went all the way down to the desert floor."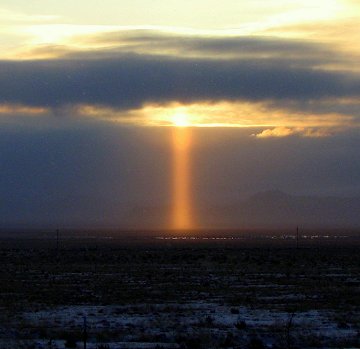 The name of this phenomenon is "lower sun pillar." It is caused by sunlight mixed with ice: Plate-shaped ice crystals flutter down from the clouds like leaves falling from trees. Air resistance causes the crystals' broad faces to line up in the horizontal direction, creating many little mirrors to intercept and reflect the rays of the sun overhead.
Sun pillars are usually of the upper variety. Lower pillars appear on rare occasions when the sun is blocked by icy clouds and the observer is on a high perch. Raven took her picture from a hillside at 4200 feet.
Is it snowing where you live? Ice in the air mixed with sunlight can produce a variety of luminous forms. Be alert for things under the sun.
---
December Northern Lights Gallery
[previous Decembers: 2008, 2007, 2006, 2005, 2001, 2000]
---