| | | |
| --- | --- | --- |
| NEW AND IMPROVED: Turn your iPhone or iPod Touch into a field-tested global satellite tracker. The Satellite Flybys app now works in all countries. | | |
LAST-MINUTE MOTHER'S DAY GIFT: When the sun goes down this evening, grab Mom and take her outside. The Goddess of Love (a.k.a. Venus) is beaming brightly through the western twilight. It's a beautiful sight and a great way to end Mother's Day. [sky map]
AMAZING ERUPTIONS: This weekend, magnetic fields around sunspot 1069 became unstable and erupted--over and over again. On May 8th alone, the active region produced more than half a dozen flares. NASA's Solar Dynamics Observatory (SDO) video-recorded each of the explosions with a clarity ten times better than HDTV. Click on the image to view a sample first-look movie: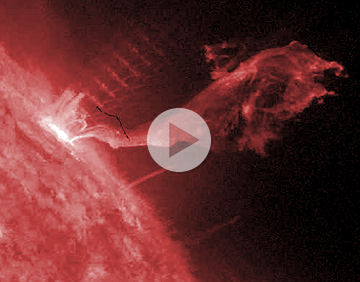 Movies: 1.8 MB mpg (web), 0.7 MB m4v (iPad), 0.3 MB m4v (iPhone)
On the Richter scale of solar flares, the eruption you just witnessed registered C2.4. In years past, solar physicists regarded C-flares as minor events, but SDO is revealing them to be quite spectacular. Plasma plumes accelerating out of the blast site are filled with magnetized gas hotter than 80,000 K and are big enough to swallow Earth itself. Earth was not, however, in the line of fire, so we will feel no geomagnetic effects from these events.
Here are three more highlights from May 8th: C1.8-flare, C9-flare, B7-flare. These were selected from the Lockheed Martin Solar and Astrophysics Laboratory's excellent latest events web site.
Instigating sunspot 1069 is rotating over the sun's western horizon, out of sight of Earth and SDO, so the show is over for now. It probably won't be long, however, before SDO turns another "minor" eruption into a jaw-dropping spectacle. Stay tuned.
BONUS: SDO also observed a pair of impressive eruptions on May 5th: This one sent a "solar tsunami" rippling through the sun's atmosphere and this one propelled a massive magnetic filament off the sun's western limb.
VOLCANIC SUNSETS: Clouds of ash from Iceland's Eyjafjallajokull volcano are blowing across Europe again, closing airports and causing fantastic sunsets. Vincent Phillips sends this picture, taken May 7th from Hale Village near Liverpool, England: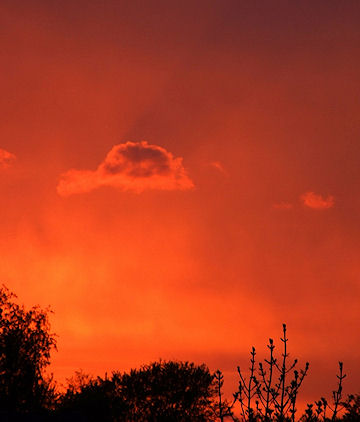 "Volcanic ash from Iceland continues to influence our skies here in the UK, and as a massive ash cloud now gathers off the coast of Ireland, there could be many more fantastic volcanic sunsets and sunrises in the days ahead," says Phillips.
Readers, you can track the progress of the volcanic plume using data from space. The OMI instrument on NASA's Aura satellite measures sulfur dioxide emissions from the volcano, which researchers turn into near-realtime maps, When a plume is passing near your location, that is the time to be especially alert for volcanic sunsets.
more images: from Gareth Pinckard of Snaefell Mountain on the Isle of Man; from Daniel Mc Glashin of Frosses, County Donegal, Ireland
---
May 2010 Aurora Gallery
[previous Mays: 2008, 2005, 2004, 2003, 2002] [aurora alerts]