| | | |
| --- | --- | --- |
| Listen to radar echoes from satellites and meteors, live on listener-supported Space Weather Radio. | | |
RING OF FIRE SOLAR ECLIPSE--TODAY! On May 9-10, the Moon will pass directly in front of the sun over the South Pacific, producing a "ring of fire" solar eclipse. At greatest eclipse, more than 95% of the sun's surface will be covered. The Coca-Cola Space Science Center is hosting a live webcast of the event from Australia! Tune in on May 9th beginning at 5 pm EDT. More: animation, map, details.
MAGNETIC ACTIVITY: A ragged, dynamic filament of magnetism is dancing along the sun's southwestern limb today. It is so large, more than 250,000 km from end to end, that amateur astronomers are able to see it in great detail using backyard solar telescopes. John Stetson sends this snapshot from Falmouth, Maine: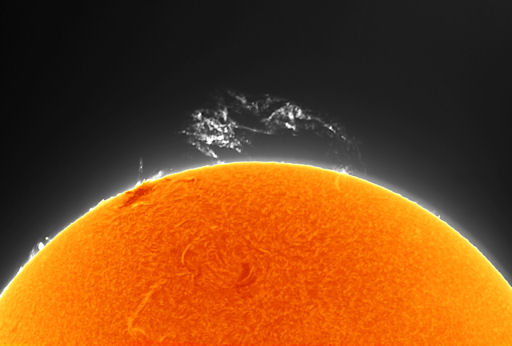 The magnetic underpinnings of this arching prominence may be connected to nearby sunspot AR1736, which is itself unstable and poses a threat for M-class solar flares. If the anchor is unstable, the overlying structure could collapse. Observers with solar telescopes are encouraged to monitor the southwestern limb for developments. Solar flare alerts: text, voice.
Realtime Space Weather Photo Gallery
ICE HALO AROUND THE SUN: On May 6th, Daryl Pederson went to Point Woronzof in Anchorage, Alaska, to see the USS Anchorage depart. "But," says Pederson, "the sun refused to be outshone." Instead of photographing the amphibious warship, he recorded this complex ice halo in the sky overhead: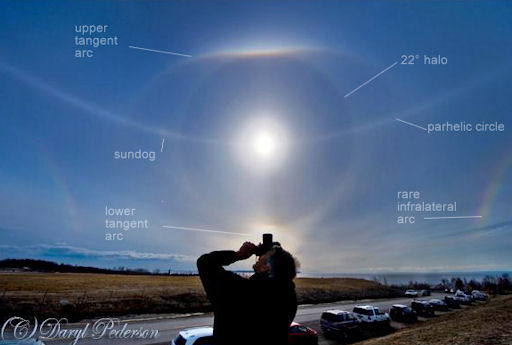 The luminous arcs and rings around the sun are caused by sunlight shining through ice crystals in thin, high clouds. Usually only one or two of these ice halos appears at once, but Pederson caught at least 6 different varieties, identified and labeled above by atmospheric optics expert Les Cowley.
"It is sometimes hard to believe that tiny ice crystals floating in the air or clouds can make such precise and beautiful sky geometry," comments Cowley. "Two reasons:- One, the small crystals unlike their larger and more familiar snowflake cousins are near optically perfect. Two, they are set firmly in near perfect alignments by aerodynamic drag forces as they drift slowly down relative to local air currents. Only the circular 22o halo comes from tumbling crystals and they generate geometric perfection, too!"
More optical perfection may be found in the space weather photo gallery.
Realtime Space Weather Photo Gallery
GENTLE SOLAR WIND, DEEP-SKY AURORAS: A solar wind stream continues to buffet Earth's magnetic field. The force of the buffeting is not enough to cause a full-fledged geomagnetic storm, but it has ignited faint auroras at high latitudes. Practically invisible to the human eye, these "deep-sky" auroras are nevertheless a beautiful sight when properly exposed using a digital camera. On May 7th, Shawn Malone of Marquette, Michigan, took this picture overlooking Lake Superior: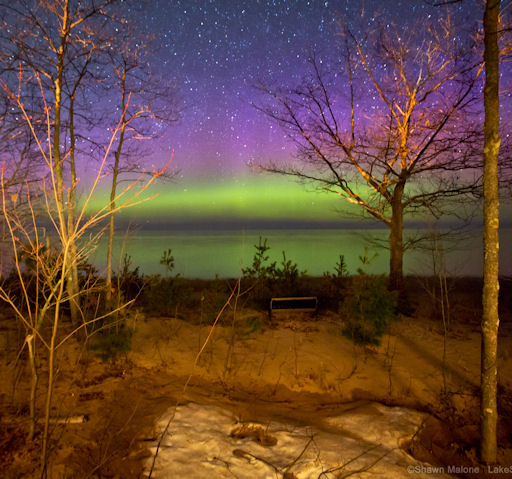 "This is just a quick photo off the back deck," says Malone. "On May 7th, we had a beautiful starry moonless night and a nice auroral glow on the horizon. The colors were undetectable to the human eye, but the camera picked them up easily."
Malone is a veteran photographer of auroras, and her back deck is a great place to watch the northern sky. She recently compiled a time-lapse video of the Northern Light. "I've been working on it for more than a year," she says. "Watch the video here." Auroras alerts: text, voice.
---
---
Realtime Noctilucent Cloud Photo Gallery
[previous years: 2003, 2004, 2005, 2006, 2007, 2008, 2009, 2011]