Aurora season is beginning. Are you ready? Check out Spaceweather PHONE.
IS EARTH A PLANET? According to IAU Resolution 5A (from "Definition of a Planet in the Solar System"), to be a planet, a world must have "cleared the neighborhood around its orbit." Is this a problem for Earth? There are a lot of near-Earth asteroids out there. One of them is passing by Earth right now: 2006 QQ56 is a small corkscrew asteroid that lingers harmlessly near Earth for months at a time as it circles the sun in a remarkably Earth-like orbit. Planet or not? You decide.
SHUTTLE LAUNCH: Space shuttle Atlantis blasted into orbit today at 11:15 am EDT. High above Earth, NOAA's GOES-12 satellite was looking down on Florida at the moment of launch and photographed the shuttle's exhaust: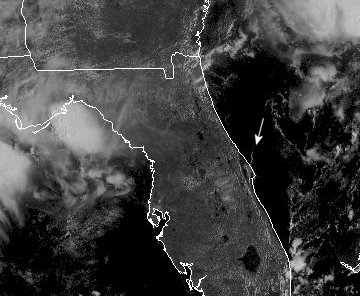 The shuttle's main engines are very clean-burning; they spew water vapor. These exhaust vapors turn into a long icy cloud tracing the path of the shuttle through the atmosphere. The cloud is twisted by high-altitude winds; that's why it looks crooked in the GOES-12 image. Icy vapors from the shuttle have been tracked as far from Florida as the North Pole and may contribute to the formation of mysterious noctilucent clouds.
Editor's note: Thank you, Jeff Umbarger of Plano, Texas, for bringing the GOES-12 image to our attention.
LUNAR ECLIPSE: On Sept. 7th, a fraction of Earth's shadow fell onto the Moon, producing a partial lunar eclipse visible from Europe to Australia. When the shadowy Moon rose over France, Laurent Laveder photographed his friend Sabine holding up a hoop. Why was she doing that? (continued below)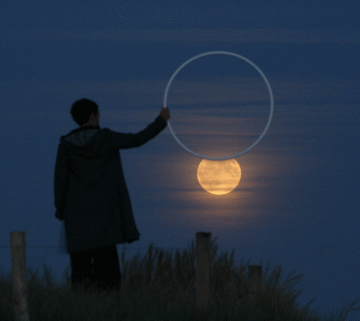 See more of Laveder's Moon pictures
"The hoop traces the outline of Earth's shadow," explains Laveder. The "umbra" is the dark core of the shadow, while the "penumbra" is its pale fringe. This eclipse is partial because only the tip-top of the Moon has disappeared into the umbra.
Sept 7th Lunar Eclipse Gallery
UPDATED Sept. 9, 2006