MARS IN THE MORNING: Set your alarm for dawn. This weekend Mars and the Moon are having a beautiful close encounter in the morning sky. Go outside before sunrise and look up. The red planet is brighter than a 1st-magnitude star and it looks nice beside the quarter Moon. Sky maps: Oct. 11, Oct. 12.
FIREBALL #1: On Friday night Sept. 25th, at approximately 9:03 pm EDT, an asteroid the size of a child's tricycle hit Earth just above Lake Ontario. It was a lucky strike, right in the middle of a network of seven all-sky cameras operated by the University of Western Ontario (UWO). The disintegrating asteroid produced a blinding fireball 100 times brighter than a full Moon. Click on the image to view a movie from the Hamilton, Ontario, station:
The asteroid exploded in flight, producing strong low-frequency sound waves in the atmosphere. Analysis of infrasound records along with video from the seven camera stations lead researchers to believe that fragments of the asteroid could have reached the ground. "This bright fireball was large enough to have dropped meteorites in a region south of Grimsby on the Niagara Peninsula, providing masses that may total as much as several kilograms," according to a UWO press release.
Researchers at Western Ontario are interested in hearing from anyone within 10 km of Grimsby who may have witnessed or recorded the fireball, seen or heard unusual events at the time, or who may have found possible fragments of the freshly fallen meteorite. Meteorite-hunting tips and more video may be found here.
FIREBALL #2: Unrelated to the Ontario fireball of Sept. 25th, another fireball lit up the skies of New Mexico on Oct. 9th at 2:04 am MDT. "It was a super-sized meteor almost as bright as the full Moon," reports amateur radio astronomer Thomas Ashcraft. "Happily, my observatory was running on all cylinders and I was able to photograph the fireball and capture its radio sounds." Turn up the volume and click here.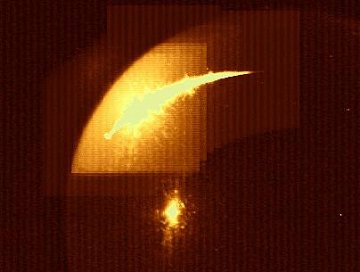 The sounds you just heard were 61 MHz transmissions from a distant TV station. The signals bounced off the ion trail created by the meteor's fiery descent through the atmosphere and were recorded by Ashcraft's radio telescope near Santa Fe.
Although the Draconid meteor shower was active on the night of Oct. 8th-9th, this meteor was no Draconid. "It did not come from the constellation Draco," notes Ashcraft. "It appears to be a random or 'sporadic' meteoroid."
Ashcraft welcomes reports from other observers, which might help him refine the meteor's ground track.
---
Sept. 2009 Aurora Gallery
[previous Septembers: 2008, 2007, 2006, 2005, 2004, 2002, 2001]
---