| | | |
| --- | --- | --- |
| NEW AND IMPROVED: Turn your iPhone or iPod Touch into a field-tested global satellite tracker. The Satellite Flybys app now works in all countries. | | |
SPACE STATION FLYBYS: This week, the International Space Station (ISS) is making a series of bright evening flybys over North America. If you live in this part of the world, check the Simple Satellite Tracker for viewing times. And don't forget, there's an app for that, too.
ISS photos: from Jason Brotski of Dunbar, Wisconsin; from Mark Humpage of Walcote, UK; from Ralf Vandebergh of the Netherlands
PARTING SHOT: The "Mother's Day Flare Show" came to an end on May 9th when active sunspot 1069 rotated over the sun's western horizon. But wait--there's more to see. Even after the sunspot departed, it continued to hurl material up and over the limb. Click on the arrow to view a parting shot: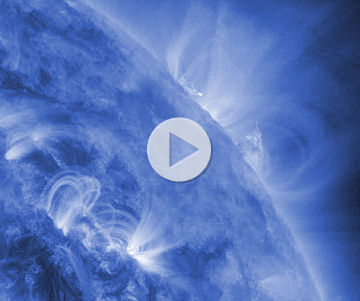 Movies: 1 MB mpg (web), 0.7 MB m4v (iPad), 0.2 MB m4v (iPhone)
NASA's Solar Dynamics Observatory recorded the eruption using the Atmospheric Imaging Assembly (AIA), a bank of telescopes that views the sun at multiple extreme ultraviolet wavelengths. The AIA's 171 Å filter (false-color blue) traces magnetized gas with temperatures around a million degrees K. This means the eruption you just witnessed was hot.
Can't get enough? Watch more SDO movies here and here.
IONOSPHERIC DISTURBANCE: On May 5th, a pair of solar flares bathed Earth's upper atmosphere in X-rays and caused a double-wave of ionization to sweep over the Americas. This improved the propagation of low-frequency radio signals, which use the ionosphere as a reflector to skip over the horizon. Rogerio Marcon of Campinas SP Brasil was monitoring a 24 kHz aviation beacon when the flares occurred, and he recorded a double-surge in the beacon's signal strength: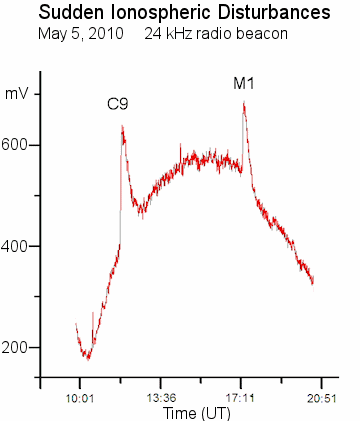 Each of the spikes is called a "SID," short for sudden ionospheric disturbance. One was produced by a C9-class flare at 11:52 UT; the other by a slightly stronger M1-class flare at 17:19 UT. The two SIDs ride atop a slower undulation in radio signals caused by the daily rising and setting of the sun. In terms of radio propagation, the two flares were as significant as the sunrise itself!
With solar activity on the rise, sudden ionospheric disturbances will become more common. Interested? Stanford University tells you how to build your own SID monitor.
---
May 2010 Aurora Gallery
[previous Mays: 2008, 2005, 2004, 2003, 2002] [aurora alerts]