PERSEID METEOR ALERT: The Perseid meteor shower is underway and should reach its peak during the next 24 hours. Forecasters say the best time to look is during the dark hours before dawn on Tuesday, August 12th. The glaring moon sets around 2:00 a.m., and that's when the Perseids will come out in numbers as high as 60 per hour. Get the full story from Science@NASA.
Perseid galleries: 2007, 2006, 2005, 2004, 2002, 2001
EARLY PERSEIDS: This morning in New Mexico, amateur astronomer Thomas Ashcraft caught an early Perseid streaking over his radio observatory. "One of them had a dynamic and rippingly intricate sonic radio signature." Click on the image to listen: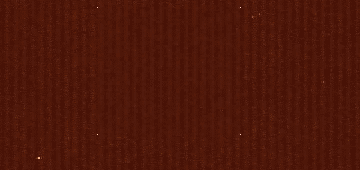 The sounds you just heard are distant radio stations reflected from the the meteor's ionized trail. Try listening with headphones: 61 MHz echoes are in the left stereo channel, 83 MHz echoes in the right. "It has a very energetic sound," says Ashcraft.
Tonight he expects the echoes to increase in number and sonic beauty as the Perseid shower reaches its peak. Visit Ashcraft's website for updates.
more early Perseids: from Richard Alan Keen of Colorado: from Erwin Filimon of Gahberg Observatory, Upper-Austria, Europe; from Phillip Chee of Peterborough, Ontario, Canada;
WEEKEND AURORAS: A solar wind stream hit Earth on August 9th sparking geomagnetic storms over Canada and at least two US states. "I got a call from Spaceweather PHONE alerting me to the situation," says Bob Johnson of Saskatoon, Saskatchewan. "I took my camera to a dark sky site and snapped some awesome pictures," including this shot of a meteor streaking through the Northern Lights: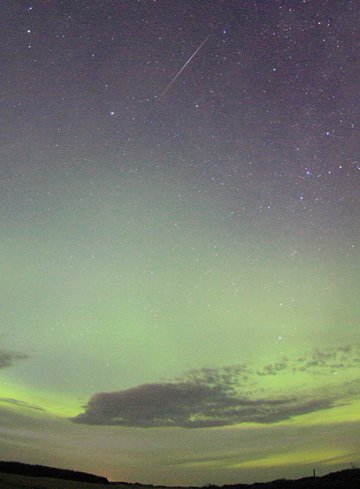 The display has subsided, but another flare-up is possible. The solar wind continues to blow and NOAA forecasters estimate a 20% chance of more geomagnetic activity in the next 24 hours.
August 2008 Aurora Gallery
[Aurora Alerts] [Previous Augusts: '07, 06, 05, 04, 03, 02]