| | | |
| --- | --- | --- |
| SATELLITE FLYBYS APP: Turn your iPhone or iPod into a field-tested satellite tracker! Spaceweather.com presents the Satellite Flybys app. | | |
CURIOUS FLYBY: A curious object is about to fly past Earth only 130,000 km (0.3 lunar distances) away. Catalogued as a 10m-class asteroid, 2010 AL30 has an orbital period of almost exactly 1 year. This raises the possibility that it might not be a natural object, but rather a piece of some spacecraft from our own planet. At closest approach on Jan. 13th, 2010 AL30 will streak through Orion, Taurus, and Pisces glowing like a 14th magnitude star. Experienced amateur astronomers are encouraged to monitor the flyby: ephemeris.
images: from E. Guido and G. Sostero using a remotely-controlled telescope in New Mexico; from Dennis Simmons of Brisbane, Australia;
ACTIVE SUNSPOT: Sunspot 1040 is still growing. During the past two days it has doubled in size--and then doubled again--to produce an active region with more than 25 dark cores and a tangled magnetic field. Dennis Simmons sends this picture of the behemoth from Brisbane, Australia: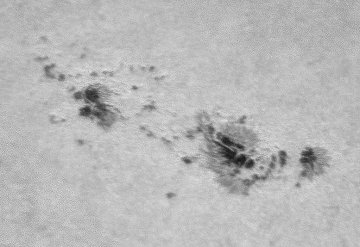 "Sweltering under the Australian sun at over 31o C, I had to wipe the perspiration from my eyes while attempting to obtain sharp focus through Earth's shimmering atmosphere," says Simmons. "It didn't help that I had my head under a blanket to block out the bright sunlight that was washing out the display on my Notebook computer! In the end, technology and software allowed me to obtain some reasonable results. It is an impressive sunspot."
Sunspot 1040 is a member of new Solar Cycle 24, and its appearance continues a recent trend of intensifying solar activity. NOAA forecasters say there is a 15% chance of an isolated M-class solar flare during the next 24 hours. Readers with solar telescopes should be alert for eruptions.
more images: from Michael Wilk of Augsburg, Germany; from Bob van Slooten of Amersfoort, Netherlands; from Andy Yeung of Hong Kong
SUN FLOWER: For the past week, much of the northern hemisphere has been in the grip of paralyzing cold. Some people say it's a hardship. Holly Miller-Pollack prefers to think of it as a photo op: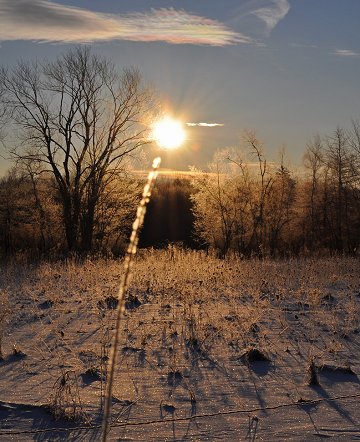 "This morning, everything was covered in frost so I went out to take a few pictures," she says. "This one came out looking like a sunflower."
"Also, look just above the sun," she points out. "The clouds are shining with iridescent colors." That is a result of the cold, too. Tiny ice crystals in the cloud diffract sunlight to produce the pastel hues.
Ice in the air. Ice on the ground. Add a dash of sunlight and voila!--a lovely snapshot. Browse the links below for additional examples.
more images: from Peter Rosén of Stockholm, Sweden; from Andrew Greenwood of Kerridge Ridge on the edge of the Peak District, UK; from Lance Parrish near Cantwell, Alaska; from Andrew Kirk of Bishop, California; from Tyler Burg of Omaha, Nebraska; from Pete Miller of Cumbernauld, Scotland; from Evan Ludes of Omaha, Nebraska; from Martin Popek of Nýdek, Czech republic; from John Napper of East Hagbourne, Oxfordshire, UK;
---
UPDATED: January Northern Lights Gallery
[previous Januarys: 2009, 2008, 2007, 2005, 2004, 2001]