| | | |
| --- | --- | --- |
| NEW AND IMPROVED: Turn your iPhone or iPod Touch into a field-tested global satellite tracker. The Satellite Flybys app now works in all countries. | | |
CHILEAN QUAKE SHIFTS EARTH'S AXIS: Widespread press reports have noted that February's Chilean earthquake might have shortened Earth's day by a small amount. Today's story from Science@NASA explores a more significant effect---how the quake might have shifted Earth's axis.
DOOMED COMET: A newly-discovered comet is plunging toward the sun and probably will not survive. The encounter is too close to the sun for human eyes to see, but the Solar and Heliospheric Observatory (SOHO) is able to monitor the action using an opaque disk to block the sun's glare. UPDATED: Click on the image to launch a 17-hour time-lapse animation spanning 0042 to 1742 UT: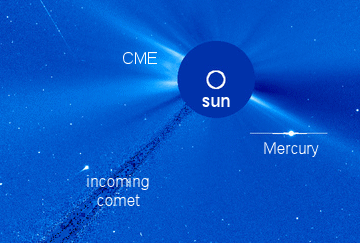 The doomed comet is probably a member of the Kreutz sungrazer family. Named after a 19th century German astronomer who studied them in detail, Kreutz sungrazers are fragments from the breakup of a giant comet at least 2000 years ago. Several of these fragments pass by the sun and disintegrate every day. Most are too small to see but occasionally a big fragment--like this one--attracts attention.
Keep an eye on SOHO for the latest images.
AURORAS FROM SPACE: A solar wind stream is buffeting Earth's magnetic field and stirring up geomagnetic activity around the Arctic Circle. "On March 11th," reports Paul McCrone, "the DMSP F-18 weather satellite recorded a dramatic auroral event over northern Canada."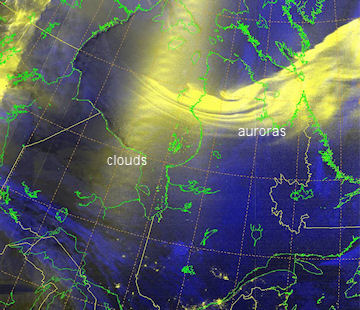 McCrone processed the image at the US Navy's Fleet Numerical Meteorology and Oceanography Center in Monterey, California. It shows a broad swirl of Northern Lights stretching from Newfoundland across Quebec to the Hudson Bay. "I included an infrared image to show that this is really not a cloud," he says. Auroras are not strong sources of infrared radiation, but clouds are, so infrared images can be used to distinguish the two.
The solar wind continues to blow. High-latitude sky watchers should remain alert for auroras.
March Northern Lights Gallery
[previous Marches: 2009, 2008, 2007, 2006, 2005, 2004, 2003]