| | | |
| --- | --- | --- |
| They came from outer space--and you can have one! Genuine meteorites are now on sale in the Space Weather Store. | | |
INCREASING CHANCE OF FLARES: NOAA forecasters have raised the odds of an X-class solar flare today to 15%. The move was prompted by yesterday's almost-X flare (M6), which hurled a CME toward Earth. Earth-facing sunspot AR1719 would be the probable source of any eruptions. Solar flare alerts: text, voice.
STRONG SOLAR FLARE: The magnetic field of sunspot AR1719 erupted on April 11th at 0716 UT, producing an M6-class solar flare. NASA's Solar Dynamics Observatory recorded the explosion's extreme ultraviolet flash: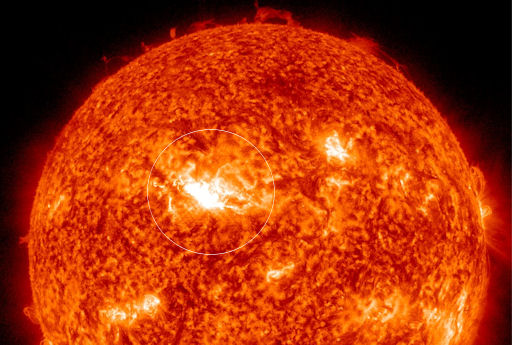 Shortly after the flare, a CME emerged from the blast site. NOAA forecasters estimate a 60% chance of geomagnetic storms on April 13th when the cloud reaches Earth. High-latitude sky watchers, be alert for auroras! Aurora alerts: text, voice.
Click to play a movie of the CME recorded by the Solar and Heliospheric Observatory: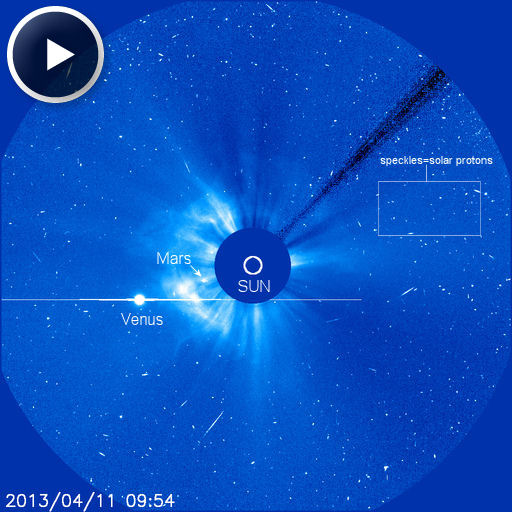 The speckles near the end of the movie are caused by energetic solar protons hitting the coronagraph's CCD detector; the particles were accelerated in the direction of the spacecraft by the flare.
Note that although the CME appears to hit Mars and Venus, there is no actual physical contact. The cloud is merely passing in front of the two planets. Stay tuned for updates about this significant explosion.
Realtime Space Weather Photo Gallery
COMET ISON UPDATE: In November 2013, Comet ISON could become one of the brightest and most active comets in years when it races through the hot atmosphere of the sun. Right now, though, it is just a dim speck in the deep-freeze of space near the orbit of Jupiter. Alberto Quijano Vodniza photographed the barely-visible comet on April 7th from his private observatory in Pasto, Narino, Colombia: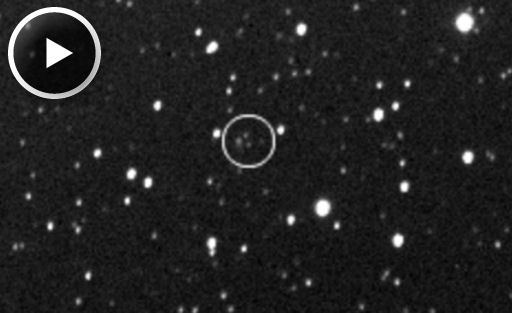 Comet ISON may look underwhelming, but that is only because it is so far away, more than 400 million miles from the sun. In fact, it is already an active comet with considerable promise. Recent measurements by NASA's Swift spacecraft shows that the comet's nucleus is spewing more than 112,000 pounds (51,000 kg) of dust, or about two-thirds the mass of an unfueled space shuttle, every minute. To produce so much dust, the comet's nucleus is probably about 5 km wide. For comparison, the nucleus of bright sungrazing Comet Lovejoy, which wowed observers in 2011, was only about one-tenth as large. Comet ISON could put on quite a show when it approaches the sun later this year.
More about Comet ISON: NASA video, 3D orbit, ephemeris, light curves.
---
---
Realtime Noctilucent Cloud Photo Gallery
[previous years: 2003, 2004, 2005, 2006, 2007, 2008, 2009, 2011]