ATLANTIS CHASES HUBBLE: Space shuttle Atlantis is chasing the Hubble Space Telescope around Earth. On Wednesday, May 13th, the two spacecraft will rendezvous for a service call that will extend Hubble's life until 2014. Both Atlantis and Hubble are visible to the unaided eye when they pass overhead in the night sky. Check the Simple Satellite Tracker to see if you are favored with a flyby. [more]
NOT A SUNSPOT: Solar activity comes in many forms. Today, astronomers are monitoring an enormous patch of seething magnetism churning through the sun's surface in a splash of bright, white froth. It is not a sunspot, but it is worth a look: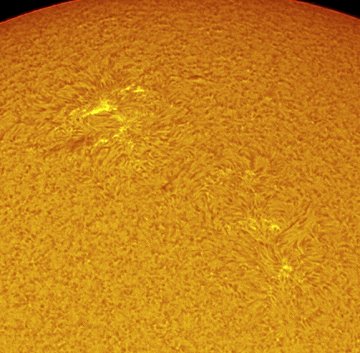 Sylvain Weiller took the picture this morning from his backyard observatory in Saint Rémy lès Chevreuse, France. "I used a Colorado SolarMax90," he says. That is an "H-alpha" telescope tuned to the red glow of solar hydrogen.
The active region could be a "proto-sunspot"--a sunspot struggling to form, but not quite able to organize its own magnetic fields into a coherent, dark core. Or it could be a "sunspot corpse"--the decaying remains of a farside sunspot turning toward Earth at the end of its short life. Whatever it is, its magnetic polarity identifies it as a member of new Solar Cycle 24--and that makes it a sign of things to come.
more images: from Marco of Stojnci, Slovenia; from Andy Yeung of Hong Kong , China
EUROPA OCCULTS GANYMEDE: On May 8th, Anthony Wesley of Murrumbateman, Australia, recorded a very rare event--one of Jupiter's moons eclipsing another. "Here," says Wesley, "is an animation of Europa passing directly in front of Ganymede."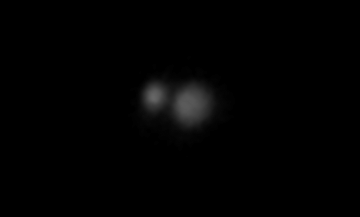 He made the movie using a 13-inch telescope and a digital video camera. "Seeing was not good, so I was only able to use 250 of the 1200 frames I collected." Nevertheless, it is an extraordinary observation, showing the distant moons as genuine world-like disks as they pass in "mutual occultation."
Earth is moving through the orbital plane of Jupiter's satellites, allowing the moons to line up for events such as Wesley recorded on May 8th. This special geometry comes along approximately once every 6 years. The last time was in 2002-2003, and now it is happening again. Between April and December of 2009, observers around the world can see Jupiter's moons passing one in front of another as they circle the giant planet. As part of the International Year of Astronomy, professional astronomers are organizing a worldwide observing campaign to record as many of these events as possible. Click here for details.
---
April 2009 Aurora Gallery
[previous Aprils: 2008, 2007, 2006, 2005, 2004, 2003, 2002]
---