| | | |
| --- | --- | --- |
| AURORA ALERTS: Did you miss the Northern Lights? Next time get a wake-up call from Space Weather PHONE | | |
SUNSET PLANET SHOW: When the sun goes down tonight, step outside and look west. Venus, Mars, Saturn and the crescent Moon are having a lovely 4-way conjunction. It's a great way to warm up for the Perseid meteor shower, which peaks on Thursday night, August 12th. Get the full story from Science@NASA. Sky maps: August 12, 13.
PERSEID METEOR SHOWER: The annual Perseid meteor shower is underway. According to the International Meteor Organization, dark-sky observers are now counting more than 35 Perseids per hour, including many fireballs. Be alert for Perseids from 10 pm on Thursday, Aug. 12th, until sunrise on Friday, Aug. 13th. The darkest hours before dawn are usually best.
Last night, Brian A. Klimowski caught this Perseid streaking over the San Francisco Peaks near Flagstaff, Arizona: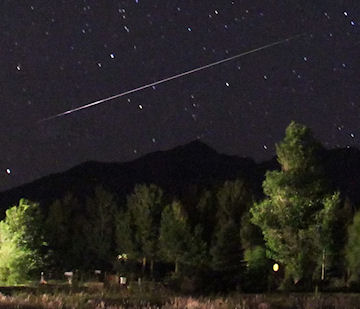 "I used a Canon 7D set at ISO4000 with an exposure time of 30 seconds," says Klimowski. Readers, take note of those settings. They might come in handy tonight when the meteor rate approaches one hundred per hour in some places. Point, click, and submit your images here.
Key Perseid Resources:
SUNSPOT TWINS: Sunspot 1093 is splitting in two. "Pass the cigar," says photographer Alan Friedman, "it's twins!" He sends this picture from his backyard observatory in Buffalo, New York: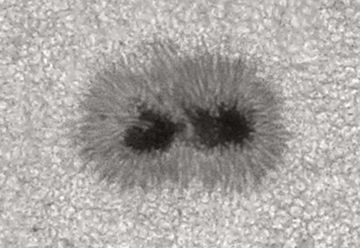 During the past 48 hours, the dark core of the sunspot has divided itself into two Earth-sized pieces. The process resembles cellular mitosis. Whether this event heralds the breakup and eventual quieting of the active region--or conversely, a multiplication of its size and activity--remains to be seen.
Either way, "it's is a nice photo-op for astronomers with solar telescopes," says Friedman. "Take a look!"
more images: from Jimmy Eubanks of Boiling Springs, SC; from Rogerio Marcon of Campinas SP Brasil; from Pavol Rapavy of Rimavska Sobota, Slovakia; from the Solar Dynamics Observatory in Earth orbit;
---
Updated: Solar Eclipse Photo Gallery
[NASA: South Pacific Eclipse] [animated map]
---
August 2010 Northern Lights Gallery
[previous Augusts: 2009, 2008, 2007, 2006, 2005, 2004, 2003]