| | | |
| --- | --- | --- |
| They came from outer space--and you can have one! Genuine meteorites are now on sale in the Space Weather Store. | | |
ASTEROID FLYBY--TODAY: Newly-discovered asteroid 2012 TC4 will fly past Earth on Oct. 12th only 96,000 km (0.25 LD) away. There is no danger of a collision, but the 16 meter-wide space rock will be close enough to photograph through backyard telescopes as it brightens to approximately 14th magnitude. NASA hopes to ping this this object with radar, refining its orbit and possibly measuring its shape. Stay tuned for updates. [3D Orbit] [ephemeris] [more] [Images: #1, #2]
RADIO STORM ON JUPITER: Last night there was a storm on Jupiter--a radio storm. Amateur radio astronomer Thomas Ashcraft recorded the event using a shortwave radio telescope located in New Mexico. Click on the dynamic spectrum (a plot of intensity vs. frequency vs. time) to hear the whooshing, crackling, popping sounds that emerged from his telescope's loudspeaker: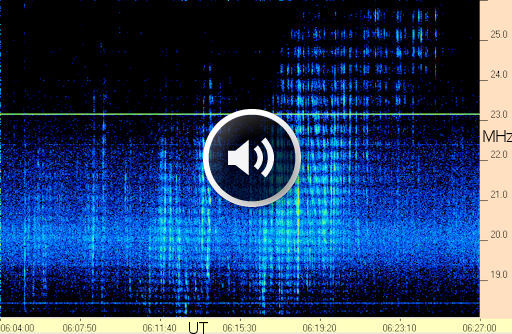 Dynamic spectrum courtesy of Wes Greenman, Radio Alachua Observatory
"Listen to the recording in stereo," advises Ashcraft. "I recorded the audio from two separate radios at 21.1 MHz and 20.9 MHz, so there is a stereo spatial effect from the frequency drift of the emissions."
Jupiter's radio storms are caused by natural radio lasers in the planet's magnetosphere that sweep past Earth as Jupiter rotates. Electrical currents flowing between Jupiter's upper atmosphere and the volcanic moon Io can boost these emissions to power levels easily detected by ham radio antennas on Earth. Jovian "S-bursts" and "L-bursts" mimic the sounds of woodpeckers, whales, and waves crashing on the beach. Here are a few audio samples: S-bursts, S-bursts (slowed down 128:1), L-Bursts
Now is a good time to listen to Jupiter's radio storms. The distance between Earth and Jupiter is decreasing as the giant planet approches opposition on Dec. 3rd; the closer Jupiter gets, the louder it gets. NASA's Radio Jove Project explains how to build your own receiver.
DRACONID METEOR OUTBURST: On Oct. 8th, more than 2000 meteors per hour exploded across the skies of North America and Europe. Radars in Canada and Germany detected the outburst of Draconids, yet sky watchers saw almost nothing. The meteors were too dim for human vision. Nevertheless, a meteor camera in Serbia captured visual evidence that an outburst was underway: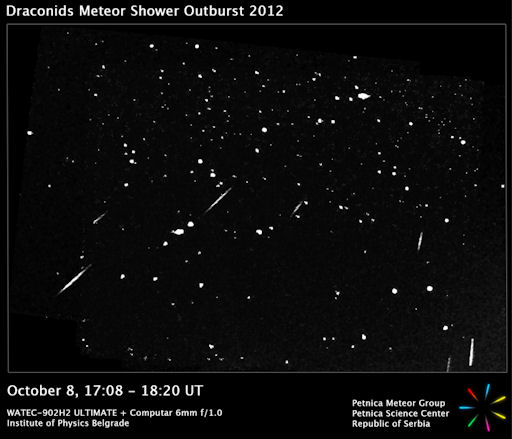 These seven Draconids appeared over the Petnica Science Center at the Institute of Physics in Belgrade. They were the bright "tip of the iceberg" marking the presence of an underlying stream of much dimmer and more numerous meteoroids. Researchers believe the outburst happened when Earth passed through a stream of dusty debris from Comet 21P/Giacobini-Zinner, parent of the annual Draconid meteor shower. This particular stream was laid down by the comet when it passed by Earth's orbit in 1959.
Realtime Space Weather Photo Gallery
SATISFACTORY LIGHTS: A coronal mass ejection hit Earth's magnetic field on Oct. 8th, sparking a dramatic display of Arctic lights that is only slowly subsiding three days later. Hugo Løhre photographed the auroras over Lekangsund, Norway, on Oct. 10th: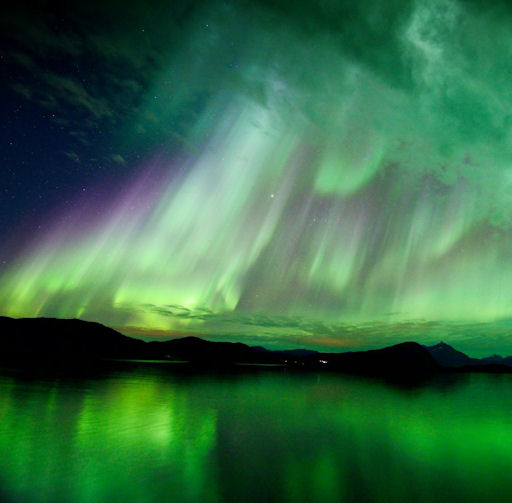 "I was testing my new Nikon digital camera when these auroras appeared," says Løhre. "I am satisfied."
More lights like these could appear on Oct. 14-15. That's when a stream of solar wind spewing from a hole in the suns atmosphere (a "coronal hole") is expected to reach Earth, possibly sparking geomagnetic storms when it arrives. Aurora alerts: text, voice.
---
Realtime Noctilucent Cloud Photo Gallery
[previous years: 2003, 2004, 2005, 2006, 2007, 2008, 2009, 2011]