Where's Saturn? Is that a UFO--or the ISS? What's the name of that star? Get the answers from mySKY--a fun new astronomy helper from Meade. .

NEW MEXICO FIREBALL: "There was a large fireball over New Mexico this morning at 3:20 am MDT," reports Thomas Ashcraft. "It literally turned night into day," he says. Ashcraft operates an all-sky camera that captured the meteor in flight: movie. Don't forget to turn up the volume: The soundtrack is the echo of a distant radio station reflected from the fireball's ionized trail. Stay tuned for updates.

PROMINENCE ALERT: "Even in these quiet times there is life on the sun," reports Les Cowley of England. This morning while peering through the eyepiece of his SolarMax60 he sketched a beautiful prominence twisting over the sun's western limb: image. It's still there, beckoning to onlookers. If you have a solar telescope, take a look. "Don't delay," Cowley advises. "The sun's rotation will soon carry this prominence out of sight."

AURORA WATCH: Tomorrow night, Sept. 14th, a solar wind stream is due to hit Earth, possibly triggering a geomagnetic storm. High latitude sky watchers should be alert for auroras.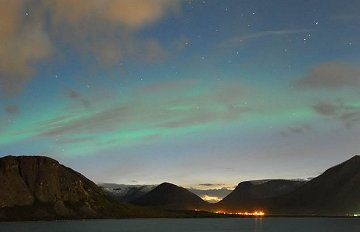 On Sept. 3rd, auroras in Kirovsk, Russia, were bright enough to shine through clouds and twilight. Alexander Chernucho took the picture above using his Nikon D200 set at ISO 800. The complete panorama is a must-see.
September 2007 Aurora Gallery
[August 2007 Aurora Gallery] [Aurora Alerts]
SOLAR S'MORES: You know what happens when you hold a marshmallow close to a camp fire. It puffs up. But do you know what happens when you hold a planet close to a star? The same thing: planets puff up, too.
Earth is a good example. Extreme ultraviolet (UV) radiation from the sun heats Earth's upper atmosphere and causes it to expand into space. During solar maximum when UV radiation is most intense, the atmosphere can puff up hundreds of kilometers higher than normal, actually enveloping satellites and degrading their orbits.
Yesterday, researchers at the Living With a Star workshop in Boulder, Colorado, announced a new way to study this phenomenon. But first, consider the following image:

On the left is an aerial photo of the building where the workshop is taking place. On the right is a blurry version of the same scene. The blur represents our best view of solar extreme UV radiation today. The sharper image illustrates improvements expected from a UV monitor called EVE slated for launch on NASA's Solar Dynamics Observatory in 2008. "EVE will improve our spectral resolution of solar extreme UV by a factor of 70 and our time resolution of UV fluctuations by a factor of 30," says Tom Woods of the University of Colorado. With EVE on duty, the puffing up of Earth's atmosphere will become better understood and more predictable--welcome news for satellite operators.
Stay tuned for more updates from the workshop!
---
September 2007 Aurora Gallery
[August 2007 Aurora Gallery] [Aurora Alerts]