Where's Saturn? Is that a UFO--or the ISS? What's the name of that star? Get the answers from mySKY--a fun new astronomy helper from Meade.

METEOR SHOWER: The annual Geminid meteor shower peaks tonight. The best time to look is between midnight and dawn. People who go outside a few hours before sunrise on Friday could see dozens to hundreds of shooting stars. As usual, the display will be best from dark-sky sites away from city lights. Even from urban areas, however, some bright Geminids will be seen. Set your alarm! [full story] [sky map] [gallery]

LISTEN! Last night in New Mexico, amateur radio astronomer Thomas Ashcraft recorded a radio echo from the ionized trail of a Geminid fireball as the bright meteor flew over his observatory. Turn up the volume and click here. [more]

SUNSPOT 978: Giant sunspot 978 hasn't exploded yet, but it is seething with activity. Witness this video recorded by Gary Palmer of Los Angeles on Dec. 11th: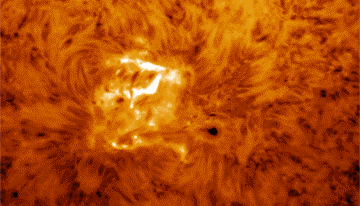 "There is a magnetic filament that seems to leapfrog over the leading spot," he points out. "Isn't Mother Nature wonderful!"
Sunspot 978 continues to grow: movie. It now covers an expanse of Sun about as wide as the planet Jupiter, making it a fine target for backyard solar telescopes (Palmer used a Coronado SolarMax90). It has also developed a "beta-gamma" magnetic field that harbors energy for M-class solar flares. Will it erupt? Stay tuned!
more images: from John Nassr of Baguio, Philippines; from Malcolm Park of London, UK; from Pete Lawrence of Selsey, West Sussex, UK; from Paul Haese of Blackwoo, South Australia;
TUMBLING ROCKET: On Dec. 10th, shortly after lofting a classified satellite into Earth orbit for the U.S. National Reconnaissance Office, the upper stage of an Atlas V rocket dumped its excess fuel in plain view of sky watchers on both sides of the Atlantic. While most onlookers were mesmerized by the comet-like cloud, Peter Lardizabal of Jacksonville, Florida, trained his telescope on the rocket itself: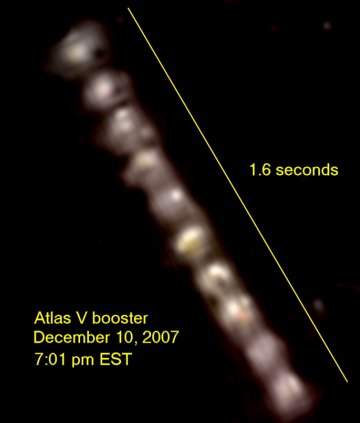 "This is a 1.6 second exposure with a Canon 30D attached to my 4-inch TeleVue NP-101 telescope," explains Lardizabal. The photo shows "a portion of the booster tumbling through space alternating between brightly- and poorly-reflecting surfaces."
Considering that it was classified, this satellite launch was remarkably well observed. Keep looking up!
---
Comet 17P/Holmes Photo Gallery
[Interactive World Map of Comet Photos]
[sky map] [ephemeris] [3D orbit] [Night Sky Cameras]