| | | |
| --- | --- | --- |
| SATELLITE FLYBYS APP: Turn your iPhone or iPod into a field-tested satellite tracker! Spaceweather.com presents the Satellite Flybys app. | | |
ANNULAR SOLAR ECLIPSE: The Moon is about to pass directly in front of the sun, producing an annular solar eclipse on Jan. 15th between 0500 and 0900 UT. Onlookers in Africa, the Middle East, India and Asia should be alert for crescent-shaped shadows on the ground and "ring of fire" suns in the sky. [animated preview] [timetables and details]
WIDE SUNSPOT: Sunspot 1040 has grown so large (ten times wider than Earth) that only a fraction of it fits on the page. Click on the image for the big picture: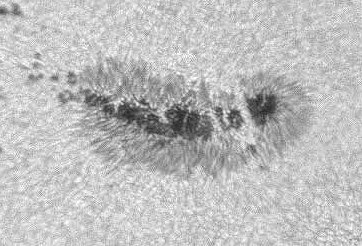 Dennis Simmons sends the image from Brisbane, Australia, where a short spell of exceptionally steady air allowed him to capture the sunspot with superb clarity. "After the software had processed my data, I was left gasping, astonished by what the seeing had allowed me to witness. This is far and away my best-ever high-resolution image of a sunspot."
This sunspot is a fantastic target for backyard solar telescopes. If you have one, take a look!
more images: from Francois Rouviere of Mougins, Alpes Maritimes, France; from Paul Haese of Blackwood, South Australia; from Pavol Rapavy of Observatory Rimavska Sobota, Slovakia; from Paul Maxson of Surprise, Arizona; from M. Jennings, K. Ritchie, J. Stetson of South Portland, Maine
COLD SUNRISE: Lately, early risers around the northern hemisphere have noticed something unusual. The dawn sun is as flat as a pancake! Earl Siggaard sends this example from Sidney, Montana: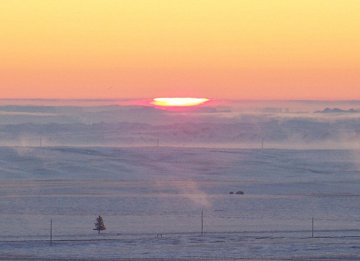 "It was a very cold morning, about 3o below zero," says Siggaard. "You can see the wind whipping up snow in the background."
Indeed, cold is key to the phenomenon. Atmospheric optics expert Les Cowley explains: "All these 'pancake suns' are mirages produced by abnormally cold air beneath warmer air--a temperature inversion. In a normal atmosphere, low-hanging air is warmed by the land. This warm air bubbles upwards, cooling and forming cumulus clouds as it does so. In cold weather, however, especially when there is a clear sky at night, heavy cold air forms close to the ground. The cold air layer cannot rise and persists, sometimes getting colder and colder."
"Our recent very cold weather has produced strong inversions and many miraged sunsets. Other mirages to look for when it is cold outside do not involve the sun. We can see ships sailing upside down and distant mountains fashioned into fantastically decorated tall castles - the Fata Morgana."
more images: from Evan Ludes of Beebeetown, Iowa; from Chris Allington of Beebeetown, Iowa
---
January Northern Lights Gallery
[previous Januarys: 2009, 2008, 2007, 2005, 2004, 2001]