| | | |
| --- | --- | --- |
| NEW AND IMPROVED: Turn your iPhone or iPod Touch into a field-tested global satellite tracker. The Satellite Flybys app now works in all countries. | | |
INCOMING: This morning, the Solar and Heliospheric Observatory recorded a halo CME emerging from the vicinity of sunspot 1054: movie. The cloud appears to be heading toward Earth and it could spark geomagnetic storms when it arrives on or about March 17th. High-latitude sky watchers should be alert for auroras.
HAPPY PI DAY: March 14th (3.14) is

day and all around the world mathematicians are celebrating this compelling and mysterious constant of Nature. Pi appears in equations describing the orbits of planets, the colors of auroras, the structure of DNA. It's everywhere.
Humans have been struggling to calculate

for thousands of years. Divide the circumference of a circle by its diameter; the ratio is

. Sounds simple, but the devil is in the digits. While the value of

is finite (a smidgen more than 3), the decimal number is infinitely long:
3.1415926535897932384626433832795
02884197169399375105820974944592307
81640628620899862803482534211706...more
Supercomputers have succeeded in calculating more than 2700 billion digits and they're still crunching. The weirdest way to compute

: throw needles at a table or frozen hot dogs on the floor. Party time!
COMET TOAST: The solar system has one less comet. On March 12th, the Solar and Heliospheric Observatory (SOHO) watched as a comet plunged into the sun and disappeared. Fierce solar heating completely destroyed the icy visitor from the outer solar system. Click on the image to see the comet's last hours: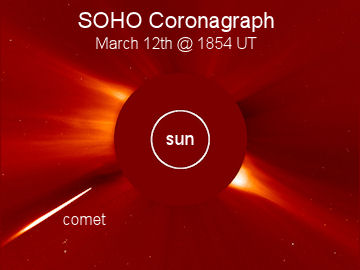 The comet was probably a member of the Kreutz sungrazer family. Named after a 19th century German astronomer who studied them in detail,Dirk Peeters.Kreutz sungrazers are fragments from the breakup of a giant comet at least 2000 years ago. Several of these fragments pass by the sun and disintegrate every day. Most are too small to see but occasionally a big fragment--like this one--attracts attention.
UPDATE: Several readers have noticed that the doomed comet was actually a string of doomed comets, plural. Click here for a Youtube video posted by Kurt McNamara, and here for a sequence of labeled diagrams from Dirk Peeters.
---
March Northern Lights Gallery
[previous Marches: 2009, 2008, 2007, 2006, 2005, 2004, 2003]